Scientists from the Centre for Ecology & Hydrology (CEH) recently hosted a workshop in Edinburgh to discuss the implications of a range of lake restoration case studies for water body management.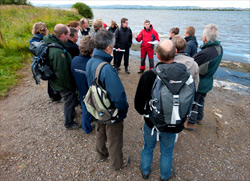 A particular focus of the workshop was the effectiveness of using Phoslock®, a modified lanthanum-bentonite clay, to reduce phosphorus release from sediments in shallow lakes. The event was attended by a wide range of stakeholders, including the Scottish Environment Protection Agency, Scottish Natural Heritage, Phoslock® Europe Gmbh, and representatives from local councils and interest groups.
Workshop coordinator Dr Bryan Spears, a freshwater ecologist from the Centre for Ecology & Hydrology, said, "Our results suggest that treating sediments in this way can speed up the recovery of shallow lakes from cultural eutrophication problems when used in combination with a reduction in catchment-derived phosphorus inputs.
"It is extremely important for the results of our research to be translated into practical advice for water quality managers as quickly as possible," he continued. "This workshop was a great success in helping us achieve this and inform restoration practices across the world."
The workshop forms part of CEH's research into lake restoration across the UK.
Additional information
More information on the workshop and talks
Scottish Loch Restoration Case Studies
More information on CEH research can be found via our news archives and via the Water, Biodiversity and Biogeochemistry science programme pages.
You can follow the latest developments in CEH research via Twitter and our RSS news feed.