More than 100 stakeholders from government, industry, universities and NGOs visited the Centre of Ecology & Hydrology's Wallingford headquarters on 16 September for a special event showcasing CEH's science capabilities and the value of UK environmental research.
An impressive line-up of speakers spoke about the opportunities and challenges facing the environmental sector, and how CEH has delivered impact through its own research and in partnership with more than 80 other organisations.
The full programme for the day and copies of the presentation slides (where available) can be found here.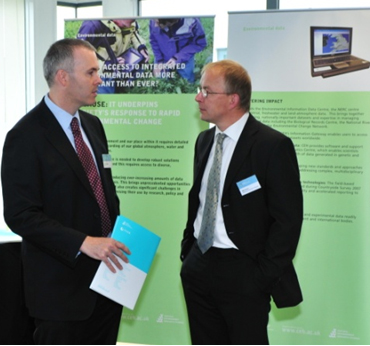 Guests were given tours of the new, state-of-the-art laboratories and outdoor experimental facilities recently opened at the Wallingford site. They also had given the chance to hear CEH scientists speaking about their current research through a series of bite-sized presentations on 10 key science areas.
Science Displays in the exhibition area focussed on how the many aspects of CEH science are addressing society's biggest environmental challenges. A preview of the CEH Information Gateway, being launched this week, was also shown to guests.
Additional CEH information
For more information on this event, please contact Ross Newham, CEH Public Relations Manager
More information on the CEH Information Gateway
Environmental Information Data Centre
CEH's science strategy: Integrated Science for our Changing World