The Centre for Ecology & Hydrology (CEH) hosted two notable visits to its Wallingford, Oxfordshire headquarters this week.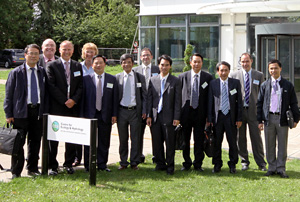 In the first, on Tuesday 24 August, a delegation from the Vietnamese government visited CEH as part of a four-day trip to the UK. Senior representatives from the Vietnamese Ministry of Natural Resources and Environment met with CEH scientists engaged in river flow forecasting, hydrometric data, climate impacts on the water cycle and West African wetlands research .
While on site, the delegation also met with representatives from the British Geological Survey before going on to the Environment Agency. The visit of the delegation to the UK was organised by British Water and also included meetings with representatives from the water industry, universities, environmental knowledge transfer experts and Downing Street.
On Thursday 26 August CEH welcomed Lord Ewen Cameron of Dillington to Wallingford for meetings with several staff and a tour of CEH's laboratory facilities. Lord Cameron, a cross-bench member of the House of Lords, was formerly chairperson of the Countryside Agency and a member of the UK Government's Round Table for Sustainable Development. He is a fellow of the Royal Agricultural Society.
At Wallingford he met with scientists working on various projects including agroforestry, soil moisture measurements, farming impacts and climate change threats to water availability.
Additional CEH information