More than 100 stakeholders from government, industry, universities and NGOs are to visit the Centre of Ecology & Hydrology's Wallingford headquarters on September 16 for a special event showcasing CEH's science capabilities and the value of UK environmental research.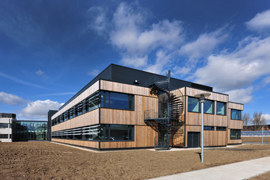 An impressive line-up of speakers will talk about the opportunities and challenges facing the environmental sector, and how CEH has delivered impact through its own research and in partnership with more than 80 other organisations. Speakers include:
Professor Alan Thorpe, chief executive, Natural Environment Research Council

Professor Henrik Sandbech, National Environmental Research Institute, currently chair of PEER, the Partnership for European Environmental Research, of which CEH is a member

representatives from major CEH collaborators and stakeholders: the Environment Agency, Defra and Syngenta

senior CEH staff including Director Professor Patricia Nuttall, Professor Alan Jenkins and Professor David Fowler FRS

Gwyn Rees, director of CEH's Environmental Information Data Centre, which is preparing to launch the new CEH Information Gateway.
Guests will be shown the new, state-of-the-art laboratories and outdoor experimental facilities recently opened at the Wallingford site, and be given the chance to hear CEH scientists speaking about their current research.
Displays in a special exhibition area will focus on the many aspects of CEH science aimed at addressing society's biggest environmental challenges and how the organisation is well placed to tackle those challenges.
Additional CEH information
For more information on the stakeholder event, please contact Ross Newham, CEH Public Relations Manager, email: rowham@ceh.ac.uk
Environmental Information Data Centre
CEH's science strategy: Integrated Science for our Changing World
External links (open in new windows)
Natural Environment Research Council