CEH again celebrated National Science Week (11th to 19th March), which is organised by the British Association for the Advancement of Science, by running interactive events for schools and the public.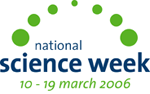 CEH celebrated National Science Week, organised by the British Association for the Advancement of Science, in a variety of ways ...
Science Discovery Day at CEH Lancaster:
Two local secondary schools (Carnforth High School and Dowdales, Dalton-in-Furness) brought about 50 of their Year 9 students to CEH Lancaster on 16th March to take part in six activities/exhibits.
Science Week at CEH Dorset:
In "sciBAr" on 14th March a pub audience at the Kings Arms in Dorchester debated "Conservation - is it large-scale gardening?" Following a thought-provoking discussion (led by CEH plant ecologist Dr James Bullock) the evening continued with a celebration of Einstein's impact followed by selected rounds of the BA Science Week quiz.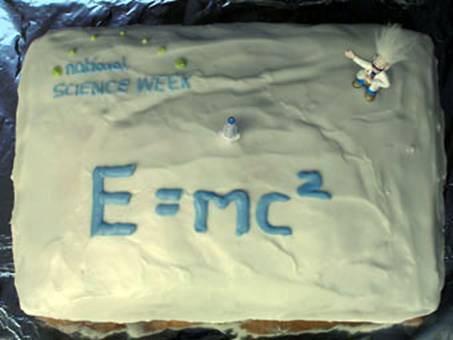 Celebrating Einstein's anniversary A Café Scientifique took place on 15th March at Bar So in the Royal Exeter Hotel in Bournemouth: Dr Jim Smith led with a brief talk on Einstein's "E=mc-2; the equation that shook the world", followed by a buffet, celebration of Einstein's life and work and pitting their wits in the BA Science Week pub quiz.
Hazel Watson, a student at the University of Bath based at CEH Dorset, showed her poster, on sexing Oystercatchers using DNA from feathers, at the House of Commons Young Scientist SET event on 14th March. On 15th March Dr Richard Caldow gave a lecture to the Dorset Natural History and Archaeological Society "Birds and man in the coastal zone" as part of the DNHAS regular lecture series held at the Dorchester County Museum.
The Winfrith public lecture on 18th March was by Dr Jon Copley from Southampton Oceanographic Centre on "Exploring life at deep-sea vents and seeps: worlds without sun?"
Water detectives at CEH Wallingford:
Water Detectives event CEH Wallingford ran an event called "Water detectives" from 11th to 20th March. The week's activities were aimed mainly at local schools, including displays, activities and talks by CEH and British Geological Survey staff. There was an open session for the public on Saturday 19th March and more than 400 children and 100 adults attended over the week.