The Centre for Ecology & Hydrology (CEH) recently added its 5000th item to the Natural Environment Research Council (NERC) Open Research Archive.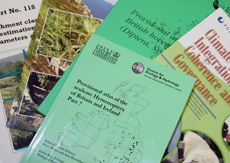 The archive, known as NORA, was set up as a way of improving access to the science outputs delivered by NERC's four research centres - CEH, the British Geological Survey, the British Antarctic Survey and the Proudman Oceanographic Laboratory (now incorporated with the National Oceanography Centre). NORA therefore acts as a central repository for published material such as academic papers or reports that have resulted from research funded by NERC.
CEH's NORA entries also include work funded by UK government departments and agencies, the European Union, and research outputs commissioned by private companies.
NORA went live in spring 2007 and now has more than 9500 items in its database. CEH content ranges from the earliest item in NORA, The conservation of invertebrates, published in 1965, the proceedings of the first ever staff symposium held at the Monks Wood Experimental Station in Cambridgeshire, to more recent offerings such as a peer-reviewed scientific article on convection in an African wetland, written by Dr Chris Taylor and published in the journal Geophysical Research Letters in 2010.
"Making publications available on NORA is just one part of CEH's efforts to make its research more accessible to the wider world."

Prof Pat Nuttall, Director of the Centre for Ecology & Hydrology
The 5000th NORA record from CEH provides details of a keynote talk on non-native species given by Dr Helen Roy at the 11th International Symposium "Ecology of Aphidophaga" (held in Perugia, Italy from 19-24 September 2010).
Professor Pat Nuttall, Director of CEH, said, "We're proud to be the first NERC research centre to archive 5000 of our publications on the NERC Open Research Archive. Many of the NORA CEH entries contain the full text of publication, therefore making key research outputs freely available to researchers, policy-makers, and the general public."
Professor Nuttall added, "Making publications available on NORA is just one part of CEH's efforts to make our research more accessible to the wider world. The recently launched CEH Information Gateway provides access to many of our key datasets, and we're working closely with our partners to ensure that our world-leading scientific research has the greatest possible impact, helping to address today's most pressing environmental issues."
CEH's 5000 NORA entries comprise details of more than 2400 articles, almost 900 books or book chapters, and more than 1300 reports. Many of the peer-reviewed science articles are linked directly to journal publishers who often operate subscription-based access models, but more than 60% of the other content has full text copy attached to the record, making it available free of charge to members of the public.
Open Access archives such as NORA help to ensure that research funded by the UK's Research Councils reaches a wider audience, leading to greater impact for the UK's science output, and thus contributing to the UK's economic and environmental well being.
Additional information
Journalists wishing to know more about this story should contact the CEH press office.
Related CEH links on NORA
Browse all CEH's items on the NERC Open Research Archive
The conservation of invertebrates (published in 1965)
An inventory of non-native coccinellids in Europe - 5000th record deposited by CEH
Further CEH links