(updated 16 March 2009)
More than 2,500 climate experts from 80 countries have been meeting this week at the Copenhagen Climate Congress. Several scientists from the Centre for Ecology & Hydrology attended the three-day meeting, presenting on a variety of subjects including climate modelling, bioenergy, ozone and future land use.
Dr Chris Huntingford, a climate modeller from CEH, comments, "We are now at the stage where the global warming signal can be seen in the measurement record, and sophisticated statistical methods are able to pull apart what are natural cycles and what are changes due to increasing levels of carbon dioxide in the atmosphere. Such techniques have confirmed that major changes to the climate system are occurring, and that these are predominantly due to the human activity of burning fossil fuels."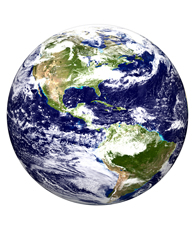 Dr Jeanette Whitaker from CEH studies the impacts of biomass and biofuel crops, an increasingly important issue given global climate changes. Dr Whitaker spoke in Copenhagen on Wednesday afternoon. Her research has found a key difference between first and second generation biofuels. The latter, which include ethanol from woody crops, has substantially lower energy requirements and greenhouse gas emissions compared to first-generation biofuels such as ethanol produced from sugar beet. As an example, using biomass for generating electricity and heat was the most efficient use with 10-fold lower greenhouse gas emissions and energy efficiency, leading to a 90-95% greenhouse gas emissions saving compared with a conventional coal power station. These findings are immensely important in deciding whether crops should be used for food or fuel.
Professor David Fowler FRS from CEH also spoke at the Climate Congress on the subject of ground level ozone in the 21st century, and possible climate interactions and impacts. Professor Fowler was the lead author of a major Royal Society report on this issue, published in late 2008.
Additional information
New scientific paper - "How difficult is it to recover from dangerous levels of global warming?" (external link). Chris Huntingford is co-author of this paper which was published on Wednesday 11th March in the scientific journal Environmental Research Letters (external link). The lead author, Jason Lowe from the Met Office Hadley Centre, presented the results in Copenhagen.
CEH response to media coverage of new research on the Amazon rainforest presented at the Copenhagen Climate Change meeting
Full text of the final statement from the International Scientific Conference on Climate Change – Copenhagen 10-12 March 2009
Recent CEH research relevant to the issues raised at the Copenhagen Climate Congress
Is global warming difficult to reverse? - 11 March 2009
Amazon dieback could be prevented - 17 February 2009
Ozone controls failing to protect human health and the environment - 6 Oct 2008
Europe needs to intensify actions to adapt to climate change impacts – 1 October 2008
Is nitrogen a major cause of climate change? - 10 July 2008
Amazon under threat from cleaner air - 8 May 2008
Summer 2007 Floods: A Very Singular Event - 11 March 2008