A collaboration between five Centre for Ecology & Hydrology scientists and the University of Stirling has produced the first clear evidence explaining why more than half of Britain's bumblebee species are seriously declining or under threat.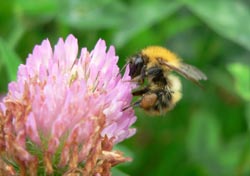 The team led by Claire Carvell, from the Centre for Ecology & Hydrology (CEH) research site at Monks Wood, brought together 20 years of bumblebee field data with two of the country's most comprehensive datasets on 20th Century changes in plant species (the Plant Atlas and Countryside Survey, both co-ordinated by CEH).
Red Clover Red Clover The scientists' analysis revealed massive declines in bumblebee food plants such as Red Clover, Black Knapweed and Meadow Vetchling. Many of these nectar and pollen-rich plants have been lost due to intensive agriculture.
Claire commented "Our findings will help strengthen the argument for bumblebee conservation and encourage the restoration of these declining food plant species in the countryside via the new agri-environment schemes".
The work was published last month in the journal Biological Conservation.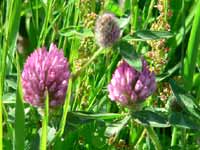 Additional Information
The article in Biological Conservation