The Biological Records Centre (BRC), a world-class observatory for UK biodiversity, celebrates its 50th anniversary this week. A pioneer of what is now called citizen science, BRC links researchers with voluntary recording communities, collating and interpreting data to understand large-scale biological processes by relating changes in species distributions to environmental change. A celebratory symposium is being held at the University of Bath this week (27-29 June 2014) to mark the anniversary.
The symposium will review causes of change in species distribution and consider new opportunities for biological recording presented by scientific and technological developments.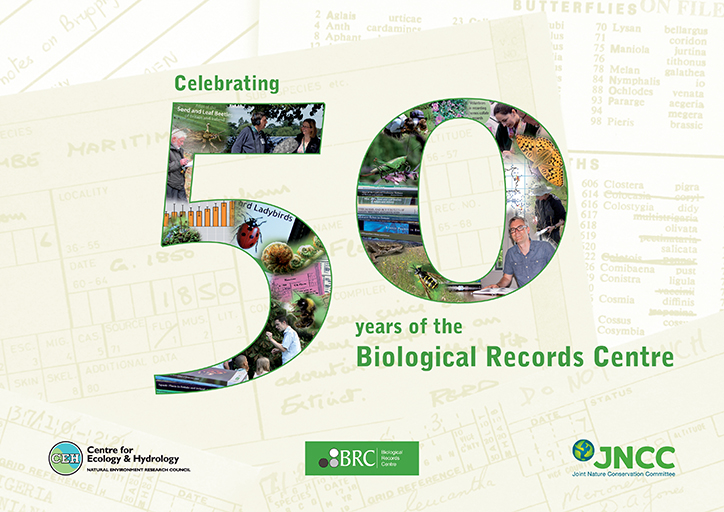 BRC, part of the Centre for Ecology & Hydrology (CEH) and supported by the Joint Nature Conservation Committee (JNCC), is the national focus in the UK for terrestrial and freshwater species recording. It works closely with more than 80 national recording schemes and societies which cover a wide range of plant and animal groups.
Analysis of data by the BRC's scientific team at CEH has been central to numerous peer-reviewed papers (more than 200 in the past ten years), as well as reports and news stories, including the following examples from the last two years:
The work of BRC is a major component of the UK's National Biodiversity Network, whose development it has supported since 1997. There are now 96 million observations available via the NBN Gateway. BRC also works with Defra on the GB Non-Native Species Information Portal (GBNNSIP).
In its 50 years, the BRC has published distribution maps for more than 10,000 species in 100+ printed atlases

In its 50 years of operation, @__BRC__ has mapped 10,000 species in more than 50 printed atlases #BRC50
In the 50 years since the formation of BRC, a major achievement has been the publication of distribution maps for more than 10,000 species from more than 100 printed atlases. In 2014, BRC supported production of the British Dragonfly Society's new Atlas of Dragonflies in Britain and Ireland by contributing analysis of trends and editorial support.
The BRC's earliest plant record is from the 16th century but nowadays records are often submitted via smartphone apps. BRC has worked with recording schemes to develop recording apps such as iRecord Ladybirds and iRecord Butterflies which both recently passed the 10,000 records milestone. It has also helped develop the iRecord website for sharing wildlife observations and associated photos.
As well as a look at aspects of BRC's work in analysing species trends and environmental change, this week's birthday symposium will also have a focus on the future. Speakers include Tom August on emerging technology for citizen science and Tom Oliver on projecting future changes in British biodiversity. The current head of BRC, David Roy will officially open the symposium, whilst previous head, Mark Hill, is among the line-up of speakers. Paul Harding, MBE, who was head of BRC for 20 years up until 2003, is also attending the meeting and has been heavily involved in planning the celebrations. The event concludes with a field trip to Salisbury Plain.
A special booklet has been produced for delegates, while the symposium talks will form the basis of a special issue of the Biological Journal of the Linnean Society, for publication in 2015.
Additional information
Celebrating 50 years of the Biological Records Centre [PDF, 6.62mb]
brc-50th-anniversary.compressed.pdf
Follow the 50th anniversary symposium talks on Twitter using #BRC50.