This week scientists from the NERC Centre for Ecology & Hydrology (CEH) are exhibiting at the BBC Gardeners' World Live show at the NEC, Birmingham. The theme of our stand is "Biological Recording in a changing world", with the stand design reflecting three themes: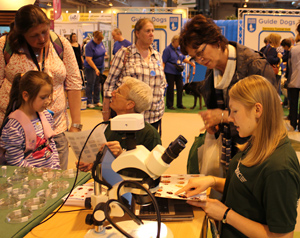 Record: celebrating the invaluable inputs of amateur recorders of Britain's flora and fauna over the last three centuries.

Research: illustrating how CEH scientists convert individual observations into distribution maps, atlases and other scientific publications.

Respond: demonstrating how biological records are used to guide policy makers at local and global levels to determine how best to respond to complex environmental issues such as biodiversity loss and climate change.
Among activities at the stand are the chance to view mini-beasts under the microscope, talk to wildlife experts, play Biodiversity jenga and learn about a new app for mobile phones that allows members of the public to upload information about soils in their area. Representatives of the Botanical Society of the British Isles are on the stand to commemorate the 50th anniversary of the publication of the Atlas of British Flora.
You can visit the team on stand GFW3 in Hall 19 from 9am to 6pm until Sunday 17 June.
Additional information
View photos of the stand in our Flickr set
Read more about the stand on our blog
Biological Records Centre - the national focus in the UK for terrestrial and freshwater species recording
Conker Tree Science Leaf Watch - you can learn more about this research project at the stand
UK Ladybird Survey - you can learn more about this recording scheme at the stand
BBC Gardeners' World Live website
You can follow the latest developments in CEH research via Twitter and our RSS news feed.