Scientific knowledge and experience about how to conserve wild bees around the world has been brought together by scientists for the first time. The synopsis of evidence on bee conservation will be launched in book form at the British Ecological Society's Annual Meeting in Leeds this week.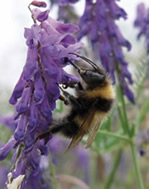 A number of CEH scientists are attending the BES Annual Meeting, taking place in Leeds from 7-9 September. Thousands of ecologists from around the world will gather at what is Europe's largest ecological conference.
Hundreds of scientific papers and posters will be presented at the meeting, while the BES Lecture will be presented by Professor Andrew Watkinson, director of Living with Environmental Change, on the topic "Making a difference: research with impact." CEH staff will take part in sessions on topics including ecosystem processes and grassland restoration.
Dr Claire Carvell of the Centre for Ecology & Hydrology was a member of the Advisory Board that helped with the scope and content of the Bee Conservation synopsis, which was led by Professor William Sutherland and Dr Lynn Dicks at the University of Cambridge.
Bee Conservation: Evidence for the effects of interventions is the first in a series of synopses that will cover different species groups and habitats, gradually building into a comprehensive summary of evidence on the effects of conservation interventions for all biodiversity throughout the world. It lists 59 different actions that can be taken to benefit wild bees, with evidence summarised in plain English. The synopsis is already available online at the Conservation Evidence website, while other synopses are now being prepared for birds, butterflies, grassland and farmland.
The Conservation Evidence project aims to make conservation practice more science-based.
Additional CEH information
New projects to address decline of honeybees and other insect pollinators – 22 June 2010
External links (open in new windows)