The BBC will broadcast the first of two David Attenborough documentaries on climate change on Wednesday 24 May, 9pm, BBC1. The one-hour documentary 'Are We Changing the Planet?' will explore how far climate change is altering our planet, from drought-stricken rainforest to declining numbers of polar bears, from flooded homes to bleached coral. Many environmental scientists have contributed to the programme including several Centre for Ecology & Hydrology (CEH) staff.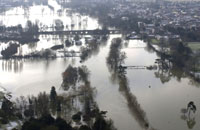 Professor Peter Cox, who was quoted in last week's Radio Times piece on the programme, will be the star interviewee from CEH. You might also catch a glimpse of Wytham Woods, one of the sites in the UK wide Environmental Change Network co-ordinated by CEH.
The second programme is due for broadcast Wednesday 31 May, 9pm.
Additional Information