The Auchencorth Moss monitoring site in Scotland operated by CEH has been awarded 'Regional Station' status within the World Meteorological Organisation's Global Atmosphere Watch programme. Site data will now be submitted to global databases, as well as UK-Air and European databases, enhancing the use of the measurement data.
The site status upgrade was led by Dr Marsailidh Twigg. In addition, in April 2014, CEH's Auchencorth field team, coordinated by Dr Ian Leith (now retired), Dr Matt Jones and Ms Sarah Leeson installed a cabin equipped with bench space, inlets and air conditioning, specifically designed for housing short-term experiments and visiting scientists. As a result new collaborative opportunities are now available for using the station as an atmospheric observatory facility.
Image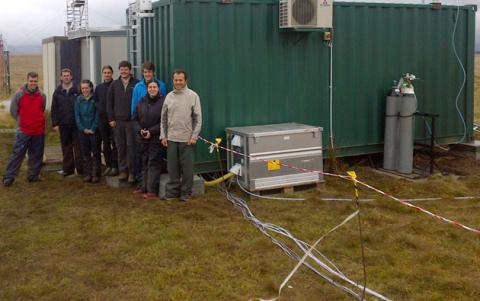 The first occupants arrived less than a week after installation was completed to take part in an intensive monitoring period for a variety of international projects. The EU ACTRIS project Transnational Access Programme funded Drs Eleonora Aruffo and Piero di Carlo from the University of L'Aquila to take part in a CEH-led study of the atmospheric nitrogen budget. Scientists from the University of Birmingham, other CEH staff and a Defra/CEH funded PhD student are also participating in this experiment which will help further understand the complex chemistry of atmospheric reactive nitrogen chemistry in the context of the UK Defra network measurements.
On another part of the site, running in parallel to the ACTRIS work, scientists led by Dr Eiko Nemitz of CEH are involved in EU ECLAIRE project work examining ecosystem-climate-atmosphere interactions with a focus on surface exchange effects. This work runs to June 2014. A third project is also taking place at the present time, ozone instrument intercomparison work led by Dr Mhairi Coyle of CEH.
Additional information
Global Atmosphere Watch programme
The Auchencorth Moss site was recently featured in Planet Earth magazine [PDF]
Photos of Auchencorth Moss station and other CEH field sites
You can follow the latest developments in CEH research via Twitter and our RSS news feed.