Centre for Ecology & Hydrology Scientist René van der Wal is off to Spitsbergen this week to help complete a three year collaborative study of goose grazing and climate change in the arctic tundra.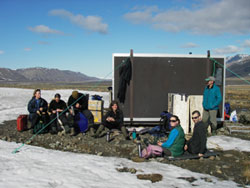 Dr van der Wal is carrying out the work as part of the EU funded FRAGILE (Fragility of Arctic Goose Habitat: Impacts of Land use, conservation and Elevated temperatures) project.
Dr van der Wal said: "We use captive barnacle geese to determine whether with increases in goose numbers, the carbon balance of arctic tundra is affected. Whilst still in the process of obtaining data, it appears that through the grazing impact on particularly mosses, geese limit the ability of arctic tundra to act as a carbon sink, possibly to an even higher degree than global warming."
On return from this summers fieldwork the next step will be to bring together data from all other parts of FRAGILE project to help determine how much of an impact geese have at the landscape level and whether a change in the arctic tundra from carbon sink to source may impact global climate patterns.
Dr van der Wal added: "Revealing this secret will be an exciting job for me and my colleagues from across Europe this autumn, when the arctic tundra disappears under a covering of snow".
Additional Information