The Centre for Ecology & Hydrology (CEH) has recently received funding from the Antimicrobial Resistance cross-Research Council initiative.
Image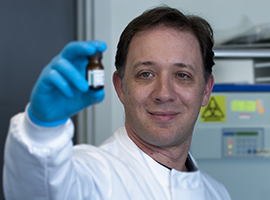 Dr Andrew Singer from CEH (pictured right) will lead a £1.5M project that aims to understand the relative contribution of antibiotics and antibiotic resistance genes to the selection and maintenance of antimicrobial resistance (AMR) in the environment.
The new funding is part of a £6·2M investment from the Natural Environment Research Council (NERC), the Biotechnology & Biological Sciences Research Council (BBSRC) and the Medical Research Council (MRC), who are funding projects exploring the role of the outdoor environment and host microbiome in influencing the selection, evolution, acquisition and spread of antibacterial resistance.
AMR is a growing global problem for both human and animal health. There are increasing numbers of resistant infections, many existing antimicrobials are becoming less effective, and there is rapid spread of multi-drug resistance bacteria. This reality has led to our inability to treat what was once routinely treatable infections/diseases.
Prof Mark Bailey, CEH Director and Dr Dan Read from CEH are involved in a second project (REHAB) funded under the AMR investment, led by the University of Oxford, which will examine the role of Human and Animal Biota in antibiotic resistance spread. This study aims to use genome sequencing to investigate the species diversity, plasmid population structure, and resistance genes present in four key species of Enterobacteriaceae as they transition from humans and animals through wastewater to riverine environments.
Dr Singer said, "We are excited to be receiving funds to support AMR in the Environment research; a topic that has been chronically underfunded, as evident in the O'Neill Review. There are critical questions about the chemical drivers of AMR in the environment that must be answered to inform policy makers and environmental regulators as to the most cost effective and efficacious mitigation measures.
"It is clear that the by-products of wastewater treatment, effluent and sludge, play a central role in disseminating antibiotics, metals and biocides, as well as antibiotic resistance genes, but we don't know the relative importance of each of these drivers to the selection and maintenance of antibiotic resistance in the environment. Our research will help to answer this question, which is among the first steps towards developing a holistic strategy for mitigating AMR in the environment."
Prof. Mark Bailey, Director of the Centre for Ecology & Hydrology, said, "This is an important topic of global importance to the health of the environment.  I am delighted that the Centre for Ecology & Hydrology is directly involved in providing the underpinning research needed to understand the fate of antimicrobials in the environment and the contributory factors that drive the evolution and maintenance of microbial resistance mechanisms to antibiotics.  This is research that will advance knowledge and provide informed solutions to enable better management."
Professor Tim Wheeler, NERC's director of science & innovation, said, "The O'Neill Review on Antimicrobial Resistance recognises the need to reduce unnecessary use of antimicrobials and their dissemination into the environment. Such a critical global issue requires complex interdisciplinary research. These exciting projects, supported in partnership with BBSRC and MRC, have the potential to drive important advances in our understanding of antimicrobial resistance in outdoor environments."
Additional information
To address AMR issues, the seven UK research councils have been working together through the AMR cross-council initiative. Launched in 2014, the initiative has committed approximately £30m so far to research in four thematic areas:
Theme 1: Understanding resistant bacteria.
Theme 2: Accelerating therapeutic and diagnostics development.
Theme 3: Understanding the real world interactions.
Theme 4: Behaviour within and beyond the health care setting.
Projects awarded funding in this latest round which involve CEH scientists:
Lead PI: Andrew Singer. Lead organisation: Centre for Ecology & Hydrology. Title: Chicken or the egg: Is AMR in the environment driven by dissemination of antibiotics or antibiotic resistance genes?
Lead PI: Derrick Crook. Lead organisation: University of Oxford (CEH involvement). Title: The environmental Resistome: confluence of human and animal biota in antibiotic resistance spread (REHAB)
Related links
Staff page of Dr Andrew Singer