The UK All-Party Parliamentary Group (APPG) for Biodiversity visited the Centre for Ecology & Hydrology (CEH) today to learn more about the research carried out, and discuss how it contributes to policy development.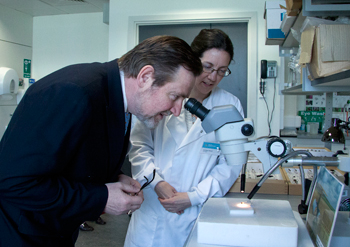 APPG members from parliament, industry, NGOs and charities heard presentations from four senior scientists, toured the research laboratories at our Wallingford HQ site, meeting several of our field teams, and held a discussion on future challenges for biodiversity research.
Topics of interest during the day included farming and biodiversity, citizen science and wildlife recording, non-native species, and pollinators.
There was much discussion on how to value the UK's natural capital, particularly in relation to ongoing work led within the Natural Capital Initiative, led by Prof Rosie Hails, CEH's Director of Biodiversity and Ecosystem Science, and also ongoing work led by Prof James Bullock in the Wessex region examining the biodiversity and ecosystem services links in lowland landscapes in Southern England. The group also heard from Dr Terry Parr, CEH's Science Area Lead for monitoring and observation systems and Dr Helen Roy, Head of Zoological Recording at the Biological Records Centre.
A short tour of the CEH laboratories was followed by an open discussion forum which centred on the future challenges for biodiversity research, planning and policy development. In conclusion, Chair Barry Gardiner MP thanked CEH for inviting the group to visit and, on behalf of CEH, Director Prof Mark Bailey said that he was looking forward to future engagement with the APPG.
Additional information
House of Commons All-Party Parliamentary Group for Biodiversity
Biodiversity and ecosystem services Wessex-BESS project
You can follow the latest developments in CEH research via Twitter and our RSS news feed.