The State of Nature report, published in 2013 by a partnership of 25 conservation organisations, showed the scale of declines in UK wildlife. Data and analysis from scientists within the Biological Records Centre, part of the Centre for Ecology & Hydrology (CEH), played a major role in tracking the trends identified in the report.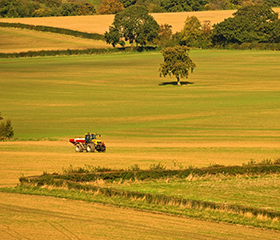 This week, a paper exploring the pressures that led to those declines has been published in the journal PLOS ONE. The study was led by the RSPB and was carried out by scientists from ten organisations - charities, Universities and research institutes – including staff from CEH.
The study looked at a comprehensive range of pressures, both positive and negative, on a sample of 400 species of plants and animals and found that intensive management of agricultural land and climatic change have had the greatest impact on wildlife since 1970.
Professor Helen Roy, Dr Gary Powney and Bjorn Beckmann from CEH were involved in the study working on assisting with data use from Biological Records Centre-hosted recording schemes and identifying the drivers of change for several species including grasshoppers and ladybirds.
Farming practices have changed dramatically since 1970, such as a change from spring- to autumn-sown crops, losses of hedgerows and farm ponds, and use of novel pesticides and herbicides. These changes have had negative impacts across many groups of animals and plants – including butterflies, beetles, bees, grasshoppers, amphibians, reptiles, mammals, birds and plants.
A second iteration of the 2013 State of Nature report will be published this September, bringing the analysis up to date for 2016. Monitoring and analytical developments since 2013 mean that this second report will be even more in-depth and comprehensive.
The new paper is open access and published in PLOS ONE. The study involved the RSPB Centre for Conservation Science, Bat Conservation Trust, Centre for Ecology & Hydrology, Butterfly Conservation, Rothamsted Research, Anglia Ruskin University, People's Trust for Endangered Species, Amphibian and Reptile Conservation, British Trust for Ornithology and the Botanical Society of Britain and Ireland.
Additional information

Read the paper at PLOS ONE (doi:10.1371/journal.pone.0151595)
Martin Harper of the RSPB has written two blogposts expanding on the climate change and agricultural drivers identified in the study.
Related CEH links

Staff page of Professor Helen Roy