As 2012 draws to a close, we take a look back at the research undertaken by CEH scientists over the last twelve months.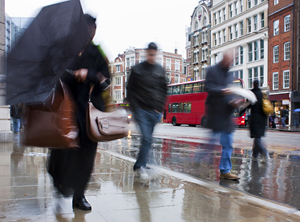 During the year our scientists contributed to around 400 peer-reviewed papers published in a diverse range of over 180 journals ranging from the well known Nature and Science to more specialised titles such as the Journal of Plankton Research, Parasites and Vectors and Heredity. Follow @CEHPaperAlerts on twitter for the latest information on new peer-reviewed papers.
As ever, CEH scientists are involved in a wide range of issues and disciplines. Looking at a small selection of our peer-reviewed outputs in 2012 our scientists covered climate change and mountain vegetation, butterflies and climate change, butterflies and drought, pollution and global warming, ladybird declines, mosquito arrivals, farm weeds, lake ecosystems, insect DNA, global warming aspirations and peak temperature limits, soil pipes and peatlands, tropical forests, parched soils and rainfall, carbon emissions and lakes, air pollution policies and seabird parasites.
Our staff and students also contributed to dozens of other important outputs including:
Work on making CEH's data collections accessible to the wider world continued apace. Data heavy projects carried out in 2012 included a new tool to help project the impacts of climate change on wetlands, new standards allow disparate biosciences data sets to integrate, a new look and data for UK's Air Pollution Information System (APIS), a major release of data from the Future Flows and Groundwater Levels project which provides British projections for the 21st century, and a major update to Europe's alien species catalogue DAISIE.
CEH scientists continue to work hard on collaborating with our 80 plus partner organisations with special emphasis this year on international links with a new MOU signed with South Korea, and high level visits to China which will continue in 2013. CEH scientists are represented on many key UK and European committees and networks including the Ecosystems Knowledge Network, ACRE and the Natural Capital Committee and are building new links with organisations ranging from the BTO, the Met Office and Environment Agency (through the Natural Hazards Partnership) and the Natural History Museum in London.
CEH staff also played a key role in several major scientific conferences in 2012. This week, staff and students have contributed to nearly 50 papers and posters presented at the British Ecological Society Annual meeting in Birmingham. The Environmental Virtual Observatories project held an International conference in London in May to discuss Harnessing Emerging Technologies for Environmental Science. CEH's Dr Ian Winfield, in his capacity as President of the Fisheries Society of the British Isles, presided over the 6th World Fisheries Congress held in Edinburgh in May. CEH also had a stand, for the second year running, at BBC Gardeners' World Live, this time focusing on Biological recording in a changing world. We were very pleased to welcome representatives of our sister NERC research centre the British Geological Survey join us on the stand to launch the joint MySoil app.
2012 also saw the launch of the CEH Science News blog, with posts providing additional information on many of the stories above, plus other news such as ash dieback disease, 50 years of predatory bird monitoring, the loss of UK sand dunes, and biodiversity loss.
In July, Professor Mark Bailey was appointed on a permanent basis to the position of Director of the NERC Centre for Ecology & Hydrology (CEH). During 2013 our new Science strategy will be published, building on the results achieved under the current strategy strategy, "Integrated Science for Our Changing World", which covers the period 2008-2013.
Additional information
More information on CEH research can be found via our news archives and via the Water, Biodiversity and Biogeochemistry science programme pages.
You can follow the latest developments in CEH research via Twitter and our RSS news feed.