As 2010 draws to a close we take a look back at the wide range of research undertaken by CEH scientists over the last twelve months, all of which helps deliver our current science strategy 'Integrated Science for Our Changing World' [NEED NEW INTERNAL LINK].
Major events in 2010 included the launch of the CEH Information Gateway, a new web portal that provides researchers and the wider public with quick, easy and direct access to a diverse range of environmental data, a highly successful Open Day for stakeholders in September, the conclusion of the fifth Countryside Survey of Great Britain and publication of the Integrated Assessment report, and the end of CEH's four year Transition and Integration Programme, which has delivered major improvements to the facilities at our four retained sites. Finally IXO Therapeutics Ltd, a new biotechnology company formed to research and develop novel medicines from natural sources for the treatment of immune-mediated and inflammatory diseases, was launched in December. The portfolio of products is partly based on the work of CEH Director Professor Pat Nuttall and her research group.
Throughout the year many of our projects and publications across a huge variety of environmental topics have generated significant interest from the public, policymakers and stakeholders, including work on snakes, butterflies, ladybirds, flooding, climate models, changes in the state of the UK's ponds, headwater streams and soils, our response to the volcanic ash European air crisis, mosses and air pollution, voles and disease, rodenticide residues, conservation of the Scots pine, acid rain recovery, sewage and phosphorus, timing of spring, puffin mortality and pollinators.
CEH organised several major scientific conferences in 2010 including a celebration of 65 years of monitoring at Windermere in the Lake District and an international meeting at the Natural History Museum looking at the future of long-term biodiversity monitoring.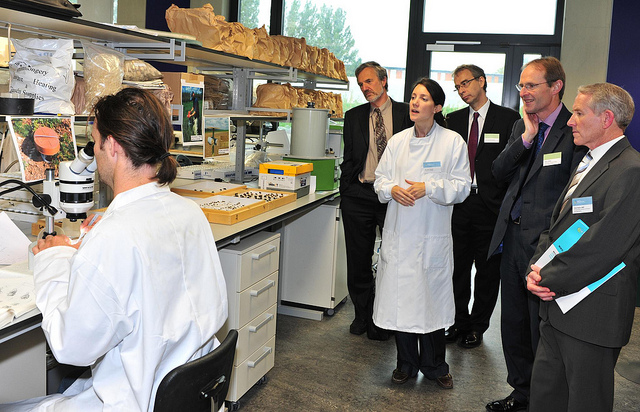 CEH scientists also asked for help from the public to record sightings of six invasive species, joined forces with the BBC Breathing Places team and school children across the UK to record ladybird sightings and ladybird parasites, and asked for records of the arrival of non-native species to the UK, including the killer shrimp.
Looking forward to 2011 CEH scientists are organising a major conference on the Nitrogen Cycle in April which will include the launch of the first European Nitrogen Assessment. The next version of the UK Land Cover Map [NEED NEW INTERNAL LINK] will be made available as will the first soil microbial map for the UK. The Ladybird atlas of Britain and Ireland will be published early in the year. Several hundred new scientific papers will be published on areas as varied as seabird declines, ladybird ecology, flood analysis, temperature and butterflies, air pollution, and many other subjects.
More information on CEH research can be found via our news archives and via the Water, Biodiversity and Biogeochemistry science programme pages.
You can follow the latest developments in CEH research via Twitter and our RSS news feed.