Today, 13 October 2008, is exactly 100 years after Fritz Haber filed his patent on the "synthesis of ammonia from its elements" which led directly to the Haber-Bosch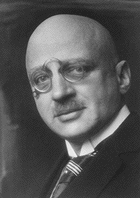 process for the synthesis of ammonia from atmospheric nitrogen. As a result of the Haber–Bosch process, billions of people have been fed, millions have died in armed conflict and a cascade of environmental changes has been set in motion.
Dr Mark Sutton from the Centre for Ecology & Hydrology (CEH) recently co-authored a review paper on the impact of the Haber-Bosch process for the leading scientific journal Nature Geoscience. Dr Sutton together with lead author Dr Jan Willem Erisman from the Energy Research Centre of the Netherlands and colleagues from four of Europe's leading environmental research centres argue that today's society is dependent on a nitrogen-based economy. The paper was published online on 28 September.
The article explains that we now live in a world transformed by, and highly dependent upon, Haber-Bosch nitrogen. This extra nitrogen has allowed large scale production of explosives with the result of millions of casualties. On the other hand, it has created an enormous chemical industry producing materials and goods for society. The major impact, however, has been the large-scale production of fertilizers supporting almost half of the world's population through increased food production.
While the use of nitrogen as a fertilizer has brought enormous benefits, losses of fertilizer nitrogen to the environment lead to many side effects. These include reduced biodiversity and the formation of marine algal blooms. Nitrogen compounds endanger the quality of drinking water, and contribute to air pollution as well as climate change, affecting life quality and the health of large parts of the population.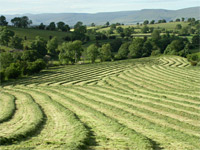 Nitrogen field experimentsDr Erisman comments, "The increasing demand for food and biofuels makes efficient use of nitrogen fertilizer and more sustainable energy a challenge for many. Haber-Bosch is perhaps the most significant invention of the 20th Century, yet it has many side effects. Now we need a new invention that changes the world just as much, but without the environmental impact."
Future scenarios suggest that such problems will become more extreme, with a potential doubling of fertilizer use predicted over the coming century. This demand is partly driven by the growing requirement for 'nitrogen hungry' biofuels. The paper concludes by arguing that today's society is dependent on a nitrogen-based economy and discusses some of the challenges we are likely to face in the next 100 years
Dr Sutton adds, "It is remarkable how a century of Haber-Bosch nitrogen has transformed all our lives. Without it, half of us might not be alive today. At the same time, the environmental impacts of nitrogen cut across all global change issues. To reduce these effects, we must improve nitrogen use efficiency, especially in food production."
The global nitrogen challenge is an issue that is set to receive more attention in the future. For example, the European Commission is currently funding the NitroEurope project, a consortium of over 60 research institutions led by CEH, which is investigating the effect of nitrogen on global warming. Its results will feed into the work of the 'Task Force on Reactive Nitrogen', recently established by the United Nations Economic Commission for Europe (UN-ECE).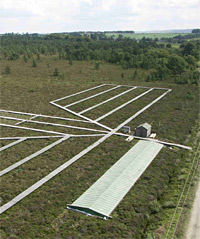 Additional information
Full paper reference: Erisman et al. 'How a century of ammonia synthesis changed the world' Nature Geoscience. DOI: 10.1038/ngeo325 (subscription may be required to read full article).
Lead author Jan Willem Erisman is the Unit Manager for Biomass, Coal and Environmental Research (BKM) at the Energy Research Centre of the Netherlands (ECN).
The article is co-authored by:
Mark A. Sutton, Centre for Ecology & Hydrology, UK
James Galloway, University of Virginia, USA
Wilfried Winiwarter and Zbigniew Klimont, International Institute for Applied Systems Analysis (IIASA), Austria
Related CEH links
Mark Sutton can be contacted through the Centre for Ecology & Hydrology press office
Earlier CEH web news article: 'Is nitrogen a major cause of climate change?'
You can follow the latest developments in CEH research via Twitter and our RSS news feed.