Up to £10 million is to be invested to help to identify the main threats to bees and other insect pollinators, under a major project announced today.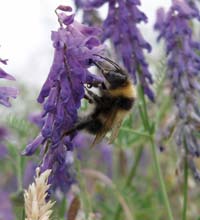 Pollinators – including honey and bumble bees, butterflies and moths – play an essential role in putting food on our tables through the pollination of many vital crops. These insects are susceptible to a variety of disease and environmental threats, some of which have increased significantly over the last five to ten years. Habitats used by many species of bees are changing fast. Intensive agriculture and climate change are affecting numbers of bumblebee species and disease is ravaging hives of domesticated honeybees.
With around a third of the food we eat coming from crops pollinated by insects and 90 per cent of the UK's wildflowers relying on insects for pollination, this is far from good news. As a result, the numbers of pollinators have been declining steadily in recent years, with the number of bees in the UK alone falling by between 10 and 15 per cent over the last two years.
To gain a better understanding of why this is happening, some of the UK's major research funders have joined together to launch an important new research programme. The biggest challenge will be to develop a better understanding of the complex relationships between biological and environmental factors which affect the health and lifespan of pollinators.
The funding will be made available to research teams across the UK under the Living With Environmental Change (LWEC) partnership, the major initiative by UK funders to help the UK respond effectively to changes to our environment. The new pollinator initiative involves the Biotechnology and Biological Sciences Research Council (BBSRC), Defra, the Natural Environment Research Council (NERC), the Wellcome Trust and the Scottish Government.
The funding programme will be administered through BBSRC. The Centre for Ecology & Hydrology will provide post-award coordination for the programme and contribute special expertise in long-term and large-scale ecology that will strengthen the research effort.
Professor Alan Thorpe, Chief Executive of NERC said, "Through the Pollinator Initiative, the LWEC partners will address what is a complex multidisciplinary problem. We need to conduct research that will help us to understand the links between bees and other pollinators and the range of environmental factors that affect them in various ways. This research will provide vital insights into why there has been a steep decline in these insect populations in recent years and help us to find solutions to the problem."
Additional information
Ecologists Dr Matt Heard and Dr Claire Carvell, both from the Centre for Ecology & Hydrology, recently recorded a podcast talking about their bee research for NERC's Planet Earth Online with science writer and broadcaster Sue Nelson. You can listen to the podcast here.
Living with Environmental Change (LWEC) is a collaborative partnership involving the UK research councils, business and policy-making organisations and was launched on 18th June 2008. LWEC will invest £1 billion over five years in programmes to address national and international needs arising from the pace, magnitude and extent of climate and other types of environmental change. It has about 20 active lines of research in train already.
Links
More information on the Centre for Ecology & Hydrology Biodiversity Science Research Programme
Media enquiries about the role of the Centre for Ecology & Hydrology in this initiative should be directed to the Centre for Ecology & Hydrology press office.