Image

We recently welcomed Professor Andrew Millar, the Scottish Government's Chief Scientific Adviser for Environment, Natural Resources and Agriculture, on a visit to our Edinburgh site.
As part of the visit, Centre for Ecology & Hydrology (CEH) scientists presented examples of work covering a wide range of topics around ecological, freshwater and atmospheric research, giving overviews on the key research projects undertaken by CEH in Scotland, the UK and globally.
After lunch and the opportunity for conversations around science posters, the team took Prof Millar to visit the field sites at Auchencorth Moss and Whim Bog.
Image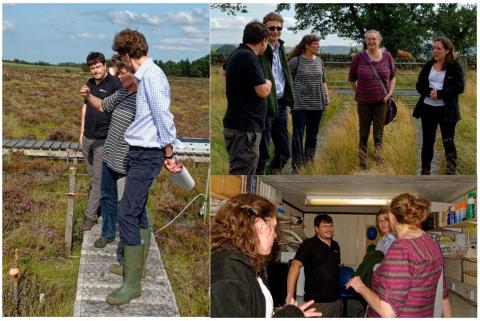 Photos: Netty van Dijk introducing the experimental setup at Whim Bog (left); Matt Jones and Marsailidh Twigg providing an overview of activities at the Auchencorth Moss Supersite (right top); Christine Braban explaining measurement equipment in one of the Auchencorth Moss cabins (right bottom). Photos: Stefan Reis
We introduced Prof Millar to the global significance of atmospheric composition and flux monitoring at Auchencorth Moss, which is a key UK monitoring site and feeds many data streams at national scale (eg UK-AIR). The site has been awarded Global Atmosphere Watch Regional Site status by the World Meteorological Organisation in 2014, and forms an integral part of international research infrastructures, such as the Integrated Carbon Observation System (ICOS) and the European Research Infrastructure for the observation of Aerosol, Clouds and Trace Gases (ACTRIS).
Our long-term field experiment at Whim Bog investigates the effects of nitrogen deposition on a sensitive habitat. Both sites play a vital role in international Long-Term Ecosystem Research (LTER) activities, and are involved in recently-won major EU funding under this initiative.
We hope that Prof Millar gained a good overview of the many research activities CEH is undertaking and that this visit will lead to exciting new opportunities and collaborations in the future.
Additional information
Professor Andrew Millar was appointed Chief Scientific Adviser Environment, Natural Resources and Agriculture for the Scottish Government in October 2018. Prof Millar holds the chair of Systems Biology at The University of Edinburgh.