Jamie Hannaford, head of the Hydrological Status and Reporting group at the Centre for Ecology & Hydrology, summarises the current UK hydrological situation...
Back in April, we wrote a blog post about the hydrological situation resulting from the very dry spring weather and the previous dry months, stretching back to July 2016 in some parts of the country. At the time, major rainfall deficits were apparent all over the country, as shown on the recently released CEH Drought Portal (see screenshot below). The blog post discussed how river flows and groundwater levels were notably low in parts of the country and soil moisture was at levels typically seen in late summer.
Image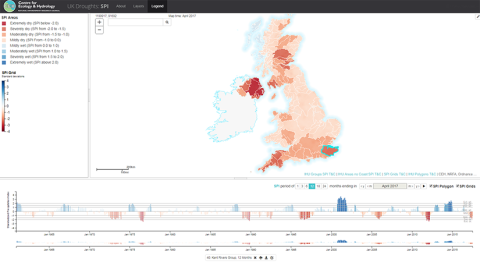 UK Drought Portal screenshot showing SPI12 drought indicator* (12-month rainfall up to April) for April 2017
There was, understandably, some concern about what this situation might mean for water resources. Although no major restrictions were foreseen for summer 2017, we noted there was potential for localised pressures on water resources. Perhaps inevitably, there was discussion in the media about whether there would be drought conditions in the summer. The regulators, water companies and other organisations were monitoring the situation carefully and of course have continued to do so. Similarly, we have continued to track the situation through our various hydrological monitoring systems.
The British summer
So what has happened since then? The famously capricious British summer is what has happened. May was a wet month in the south-east of England. June was then even wetter, especially in the north – in fact it was the wettest June on record for Scotland, as our June Hydrological Summary reported. River flows in June recovered in much of western and northern Britain; rivers in northern Scotland that reported record May minimum flows saw notably high June flows.
Image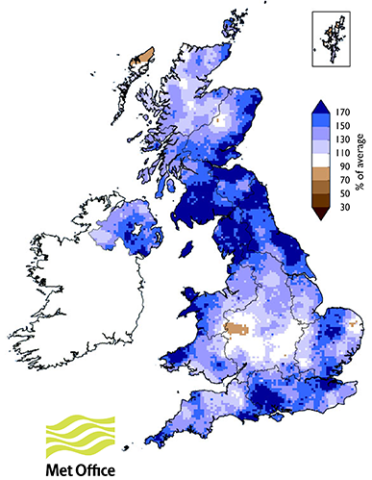 Image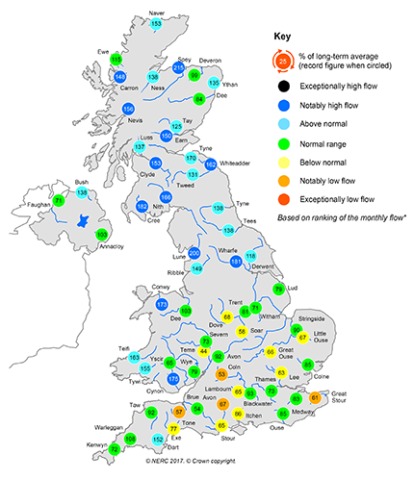 Maps from the UK hydrological summary showing June-July rainfall totals (as percent of long-term average), and June-July average river flows
July was also a wet month, as shown in the latest Hydrological Summary. July was exceptionally wet across much of southern England and river flows across much of the UK had returned to the normal range or above. There has also been some flash flooding from the intense summer rainfall, most notably in Coverack, Cornwall, where a destructive flood event was trigged by a very localised, intense storm in a small, steep catchment (similar to other flood events in coastal catchments in southwest England, such as Boscastle in August 2004).
Why has it been so wet in June and July? We have seen persistent and heavy rainfall associated with the passage of many Atlantic frontal systems crossing the UK, which in a 'typical' summer are diverted to the north by the jet stream. In summer 2017, the jet stream has followed a more southerly track, bringing more frontal systems across the UK.
There are some parallels between this year and other recent summers, particularly in the 2007-2012 period, when a southerly jet stream track has brought persistent summer rainfall to the UK. Many of the highest June-July rainfall totals for the UK occurred in this period: 2007, 2012, 1931, 1936 and 2017 rank in order as the top five highest June-July rainfall totals for the UK.
Research has investigated the cause of the unusual jet stream patterns in the summers of the 2007 to 2012 period, with the role of sea-surface temperatures in the north Atlantic as well as melting Arctic sea-ice thought to be important – although the relative roles are a matter of ongoing debate.
Image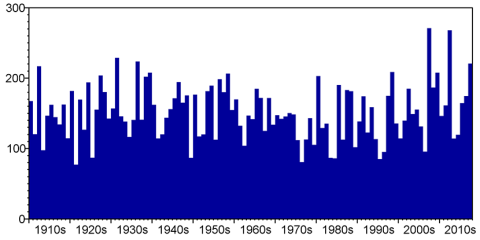 UK June-July rainfall totals (mm), 1910-2017
In 2007 and 2012, major summer flooding followed dry spring periods, with 2007 being one of the most severe flood events in recent years. In 2012, summer flooding ended the multi-year 2010-2012 drought. We reported on this remarkable hydrological transformation, and how unusual it was to see such a dramatic change in the summer half year when, generally, substantial hydrological recoveries in river flow or groundwater are rare due to high summer evaporation rates. In the event, the rainfall was truly remarkable (the wettest summer for the UK in a hundred years).
In 2017, we have again seen a marked shift from a developing drought situation across the UK in the spring, into a period of persistent wetness. And again, this transformation was unexpected (although in our April blog post we did caution that a significant change in summer was a possibility, learning from our experience of 2012!). However, the transformation has been far less dramatic than in 2007 and 2012, and flood risk in 2017 has generally been modest, with the exception of localised events like the Coverack flood.
Taking a long view
Does this mean that concern over water resources is over, and fears of drought can be forgotten about? The answer is no, especially if one takes a long view. Although much of summer 2017 will be remembered more for downpours rather than drought, we must remember that drought is a slowly evolving phenomenon – deficits built up over such a long period can take a long period to return to surplus.
The July Hydrological Summary reveals that while river flows and reservoir levels are healthy in many northern and western areas, the lingering effect of the dry spring and winter are evident elsewhere. In parts of central and southern England especially, river flows and groundwater levels are still below normal, sometimes notably so, and reservoir levels remain below average in many areas.
"Drought is a slowly evolving phenomenon – deficits built up over such a long period can take a long period to return to surplus." Jamie Hannaford, Centre for Ecology & Hydrology
Image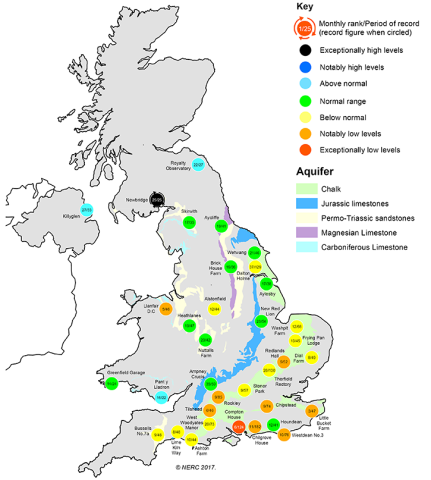 Groundwater levels in the UK in July 2017 (from the monthly Hydrological Summary)
What will happen next? Firstly it is important to note that the recent Hydrological Summary only considers data up to the end of July. We know that early August was also very wet in many places, as seen in the Environment Agency's weekly situation report for England, and there have been further flash floods (eg in Lincolnshire on 11th August).
CEH's COSMOS-UK soil moisture observatory data provides an up-to-date appraisal of the wetness of the mid-August soils in southern England, and also shows very neatly the recovery in soil moisture from the dry spring.
Image
Image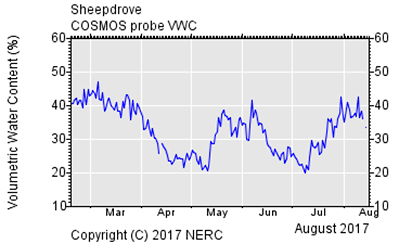 COSMOS-UK data up to 15th August for two sites in southern England
Looking ahead
The August Hydrological Outlook provides a look ahead over the next three months. The Outlook indicates that, despite the wet July, groundwater levels and river flows in groundwater-fed catchments are likely to remain below normal into the early autumn in parts of southern England.  
This means that the winter half-year (Oct-Mar), when substantial groundwater recharge and reservoir replenishment typically occurs, will be very important for the long-term water resources outlook. Most of the major droughts in the UK were associated with more than one dry winter half-year, and we have already had one in 2016/2017 – in fact, it was the driest October-April period for Great Britain since the 1976 drought. Areas with notably low groundwater levels will need significantly above average rainfall in autumn/winter 2017/2018 to return levels to normal. Another dry winter would increase the likelihood of drought conditions in spring/summer 2018.
So, all eyes on the Hydrological Summaries and Outlooks from the autumn onwards, to track the evolving situation and for early indications of the potential water resources situation for 2018. There have been significant advances 1 in our capacity to forecast winter seasonal weather conditions, and the resulting hydrology. The upcoming winter will provide a good testbed for seasonal climate and Hydrological Outlooks during an important time for water resources. 
Although these Outlooks will still be subject to significant uncertainties and, as we have seen once again in 2017, British weather can be notoriously fickle….
Jamie Hannaford
Additional information
Further Hydrological Status update blog posts will be published in the autumn.
The Drought Portal will be updated in the first few days of September, and the Hydrological Summary and Outlook in the second week. COSMOS-UK is updated every 15mins. The Environment Agency produces weekly water situation updates for England.
July 2017 UK Hydrological Summary
1 C Svensson et al, Long-range forecasts of UK winter hydrology, Environmental Research Letters (2015) Volume 10, Number 6 (open access)
* The Standardized Precipitation Index (SPI) is a widely used index to characterise meteorological drought on a range of timescales. On short timescales, the SPI is closely related to soil moisture, while at longer timescales, the SPI can be related to groundwater and reservoir storage.