Dr Amy Thomas is an ecosystems services modeller at the Centre for Ecology & Hydrology (CEH). She explains how her work with farmers in the Welsh uplands is helping to understand ways in which agriculture can exist without increasing harm to the environment.
The general focus of the Defra Sustainable Intensification Research Platform is on ways to increase productivity sustainably- i.e. without increasing environmental impacts. The project also looks at ways to reduce environmental impacts of agriculture without reducing productivity in areas of the UK where this is more appropriate, such as the Welsh uplands. We are interested in the role of collaboration in this, and how the potential impacts at catchment scale from small scale interventions may be increased through co-ordinated action across several farms.
Image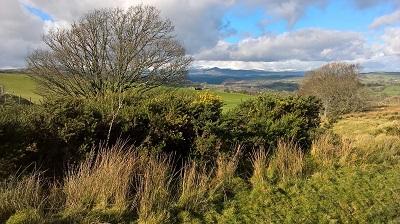 Photo: The Upper Conwy catchment in the Welsh uplands
We had opportunity to explore this through work with a group of farmers in the upper Conwy, and a funding call for the Welsh Government Sustainable Management Scheme. The scheme aims to promote landscape scale actions which improve the management of Welsh natural resources, and through this to enhance the well-being of rural communities.
A call was put out in March 2016; there were 65 applications of which 11 got through. One of these was the group we are supporting, Fferm Ifan, a collaborative group of 11 farmers in the upper Conwy catchment. They are looking to improve provision of ecosystem services from their land whilst increasing (or at least not reducing) productivity. Local issues targeted include occasional flooding affecting the downstream village of Llanrwst, which has been attributed to flashy response from the uplands of the catchment. Targeted afforestation and planting of hedges, as well as re-wetting of drained areas of peat may help to alleviate this by slowing down flows in this part of the catchment. Fferm Ifan feel that collaboration is important for achieving social, economic and environmental benefits.
The group have close links with the local community, and have previously made donations to support the local school, Ysgol Ysbyty Ifan near Betws-y-Coed. Children from the school have designed logos – one of these will be chosen for the project.
Image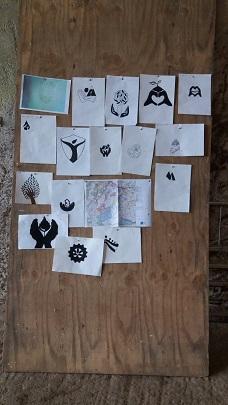 Photo: Children from the school have designed logos for the project
The LUCI (Land Utilisation Capability Indicator) model was applied to help to determine the best locations for the placement of new trees, hedgerows, wetlands and riparian zones. LUCI is an ecosystem services model, which can be used to map areas providing a range of environmental goods and services. This enables us to co-ordinate these field-scale interventions across the catchment to maximise benefits. Critically, the model simulates both habitat connectivity and hydrological flows for water and diffuse pollutants, at fine scales over the whole catchment, making it ideal for this sort of application.
Findings from the model have been combined with modelled and observed data on agricultural productivity, to produce maps at a resolution appropriate for field scale decision making. These were used in discussions with farmers to suggest locations for interventions, and to explore constraints on decision making which led to alternative placement.
Modelled output for the final configuration of intervention placements will enable evaluation of the potential long term benefits to ecosystem services, whilst also highlighting any trade-offs. This approach will both increase benefits to ecosystem services from the Sustainable Management Scheme, and demonstrate the value of ecosystem service modelling in practice.
Image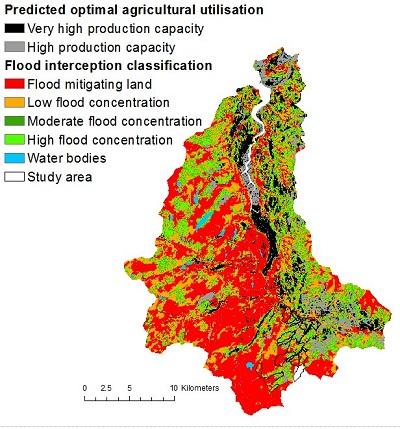 Fferm Ifan members were keen to maximise benefits of the interventions, and all group members were willing to make changes to their farm plans to put in at least one additional area of hedging or woodland based on the modelled recommendations.
To test the impacts of the interventions, CEH are developing a monitoring programme, incorporating citizen science alongside a structured survey. To enable data to be compared across Wales, the structured survey will incorporate elements of the existing national monitoring programme to assess natural resources and impacts of Glastir environment scheme. Additional monitoring will look at the impacts of ditch blocking and planting of hedges on soil hydrology.
Image
Photo: The Centre for Ecology and Hydrology and Bangor University have been working with the farmers to support the proposal and maximise benefits realised.
The farmers and national park authority are working with us on citizen science activities to monitor changes in vegetation cover on peat, using methods linked to national level assessments, enabling wider comparisons. As well as increasing the quantity of data which can be collected through the project, this approach will increase depth of farmer knowledge, and help them to feel connected to the environmental outcomes of their actions. Fferm Ifan plan to hold events to share what they are doing with the farming community, to help spread good practice.
This project shows how collaboration between farmer co-operatives and researchers can be mutually beneficial, providing routes to impact for science, and helping to show the benefits of agri-environment activities. To keep up with news on this work, you can follow Fferm Ifan on Twitter.
Image
Additional information
Staff page and research interests of Dr Amy Thomas, CEH
On 25 July 2017, CEH published a report on behalf of a wider consortium for Welsh Government which highlights the early findings of the impact of the Glastir land management scheme and long-term trends in the Welsh countryside. Evidence from over 50 indicators collected in a major field survey campaign suggests there have been many improvements in the Welsh countryside for people and nature over the last 30-40 years.
The Glastir Monitoring & Evaluation Programme Report found there are two to three times more indicators improving (26-30%) than declining (8-14%) in the short and long term, with the remaining 60% showing no change.