Dr Steve Thackeray blogs about a new international collaboration involving CEH lake scientists which will examine storm effects on lake systems
Recently, along with my colleague Laurence Carvalho, I had the great privilege of being invited to be a part of an international collaboration that will investigate the impacts of extreme weather events, especially storms, on lake ecosystems. Recent research has suggested that climatic extremes are becoming more frequent and greater in magnitude, and so it is clearly important that we develop our understanding of the effects of these events upon ecosystems, and the goods and services that they provide to us all.
In December 2016 I had the pleasure of representing CEH at the first workshop of this truly international initiative, hosted by the Centre for Synthesis and Analysis of Biodiversity (CESAB).
Phytoplankton focus
The overarching goal of the project is to gather together long-term datasets from at least 20 lakes across the world and analyse signals of storm effects in the physical, chemical and biological aspects of these systems. Our particular focus is on phytoplankton (algae) communities, which have important effects on water quality and also act as "fuel" for aquatic food webs.
To do this work, there are important scientific and methodological issues that we need to address. We need to develop a strong concept of what an "underwater storm" looks like. In other words, we need to establish what an extreme weather event looks like to the plankton. What are the most important mechanisms that affect these communities; wind mixing or flushing by rainfall? Also, how long does it take these effects to unfold, and how does this compare to the time scale of our available lake datasets? We each left the meeting with a head full of challenges, but also an equal or greater number of exciting ideas and opportunities.
Team science
Team science was a really strong theme at the workshop, and I thank our organisers for thinking so hard about this. There is no doubt that effective, honest, respectful and open communication are absolutely central to collaborative science like this. I'm sure many of us can reflect on good and bad team experiences that we have had, and we certainly did this at the workshop! I don't think I've been to a workshop with such an overt focus on these issues from the offset, and I found it really positive and refreshing. I left feeling that I have become part of a strong, motivated and enthusiastic group.
The project will be a real opportunity to connect long-term and high-resolution lake research conducted in the Cumbrian Lakes and at Loch Leven by CEH with the wider long-term research community in Europe, North America and Asia. I am hopeful that, together, we will be able to work with our hard-won long-term datasets to investigate a globally relevant issue, and produce research outputs that are more than the sum of their parts. Here's to a new, exciting, and hopefully not-too-turbulent, collaborative venture!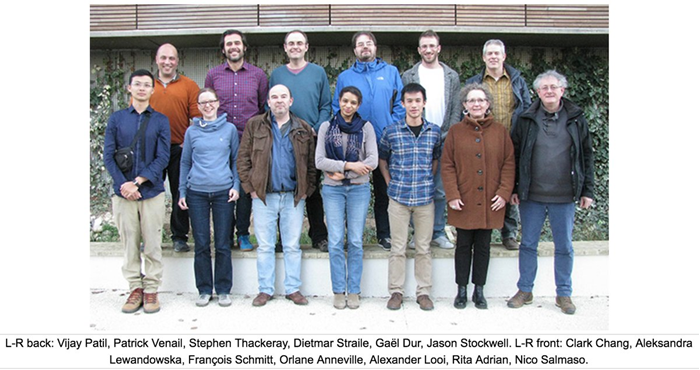 Additional information
Staff page of Dr Stephen Thackeray
Staff page of Dr Laurence Carvalho
CEH's long-term lake observatories
GEISHA Project: Global Evaluation of the Impacts of Storms on freshwater Habitat and structure of phytoplankton Assemblages