Dr Gill Ainsworth gives a short overview of a project and film in which users of the marine environment talk about their shared cultural values and experiences...
Understanding the non-monetary values people hold about nature is fundamental to understanding human wellbeing. This is important because local communities contribute significantly to conserving the natural environment. Yet, they have to bear the cost of, but often have no say in, the management decisions that affect their lives.
CEH is conducting a 12-month social science project in collaboration with the Scottish Association for Marine Science, to explore the non-monetary values of marine ecosystem services in the UK's Celtic Seas as part of the Marine Ecosystems Research Programme (MERP). Using the Community Voice Method to conduct filmed interviews with marine users in the West Coast of Scotland and Southwest of England, we are investigating shared values, competing interests and potential trade-offs to guide implementation of appropriate marine management strategies.
A 40-minute documentary film will present marine users' views to stakeholders at regional Multi Criteria Analysis workshops in early 2018. In the meantime, watch our introductory 8-minute film which conveys the cultural importance of the marine environment to some of our interviewees.
Gill has recently presented findings from the project at the annual MERP meeting and the Valuing Nature annual conference. View her presentation slides and poster below:
Image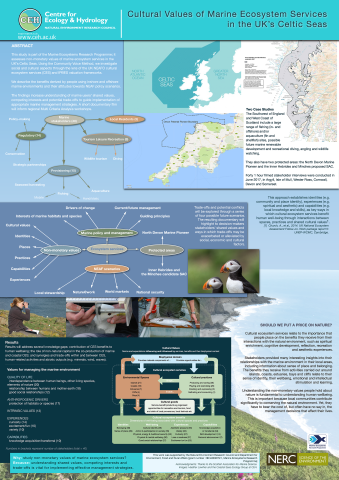 Additional information