Professor Helen Roy, an ecologist at the UK Centre for Ecology & Hydrology and President of the Royal Entomological Society, tells us how a new set of insect-themed stamps has been developed with Royal Mail...
I am always delighted to have an opportunity to celebrate insects. The Royal Mail has produced several beautiful sets of stamps featuring insects over the years and I was pleased to assist with one of these, the Ladybird 'Post & Go' stamps, issued in 2016. I enjoyed every moment of the process, from thinking about which species to include, to writing accompanying text for the beautiful presentation packs, to ultimately seeing the first day of issue aptly stamped from Beetley. So, when I heard from Royal Mail again in February 2019 about working on a new set of entomological stamps, I didn't hesitate to confirm my excitement at getting involved.
My remit was to provide a "shortlist of insects which breed in the UK, mixing aesthetic appeal with ecological importance, and rarity with familiarity". This is the challenging part. With approximately 27000 species of UK insect to choose from it can be difficult to know where to start. Usually, of course, I would begin with ladybirds, but the 2016 ladybird stamps precluded them as a choice. Both Royal Mail and I rapidly converged on the idea of pollinating insects as a theme. The Bees stamp collection, exquisitely illustrated by Richard Lewington, was issued in 2015 but the new collection would provide an opportunity to celebrate the amazing diversity of insects that visit flowers.
We had also been considering other broad themes including conservation success stories, interactions and ecological networks, and the important roles of insects in the functioning of ecosystems. With the theme of insect pollinators we knew we would be able to capture all these elements.
With the theme agreed, we then worked to decide on the list of six species. We thought about various possibilities from the tumbling flower beetle, Tomoxia bucephala, to the Hairy-footed flower bee, Anthophora plumipes. We considered including triungulins1 as a fascinating twist to the story of insects visiting flowers, but I had to concede that these tiny creatures might be difficult to capture on a stamp!
Ultimately, after wonderful discussions on various possibilities, we agreed on the following "Brilliant Bugs":
Common carder bee, Bombus pascuorum
Marmalade hoverfly, Episyrphus balteatus
Elephant hawk-moth, Deilephila elpenor
Longhorn beetle, Rutpela maculata
Painted Lady butterfly, Vanessa cardui
Ruby-tailed wasp, Chrysis ignita agg
Image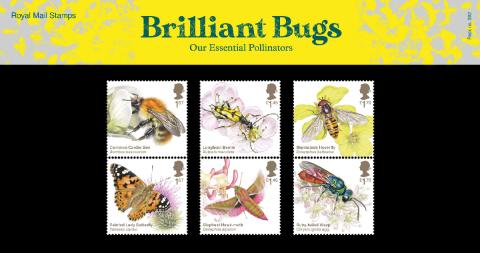 The ruby-tailed wasp caused us a little concern - is it a sufficiently frequent visitor to flowers? The taxonomy is also a little confusing. However, after some thoughts on alternative species we decided that this little wasp had lovely stories to tell and it should be included. I am so pleased we made this decision because it is utterly exquisite and looks amazing on the stamp!
Each insect was to be illustrated visiting a flower. The choice of plant for each species was important because we wanted to represent the diversity and context of the flowers visited by insects - from crop and garden plants to wild flowers.
"The choice of plant for each species was important because we wanted to represent the diversity and context of the flowers visited by insects"
For some it was straightforward. The elephant hawk-moth is very commonly seen visiting honeysuckle. For others it was trickier to choose. I am always amazed at the diversity of insects visiting hawthorn in early spring – ladybirds, and many other insects, feed on the pollen to replenish their energy depleted through their long winter dormancy. We chose hawthorn for the longhorn beetle. The marmalade hoverfly seemed well placed with oilseed rape and, given the importance of insects to crop pollination, we chose large blue peas for the common carder bee. The painted lady butterfly is a long distance migrant appearing in the UK summer after summer. The nectar provided by thistles must be very welcome to these butterflies after such long journeys. Umbellifers have such attractive flower displays - made even more so by the myriad of insects that visit them – so Angelica was the perfect choice for the wonderful ruby-tailed wasp.
I hope that you enjoy the stamps and all the accompanying information within the Presentation Pack. Look out for the carefully chosen place name on the First Day Cover.
It has been such a privilege to work on this project with the team at Royal Mail and Richard Lewington (illustrator). I worked with the editorial team on the text for various accompanying souvenirs. It was an utter indulgence for me to spend time researching these insects in more detail and the editorial team provided fantastic guidance throughout. Richard and I met a few times to discuss the illustrations and I enjoyed hearing about the technical challenges of ensuring the artwork would meet the requirements of this unique presentation style.
I also hope that these stamps will encourage more people to get involved with monitoring pollinating insects. The UK Pollinator Monitoring Scheme (PoMS) FIT Counts would be a great place to start. PoMS brings together many partners with the overarching aim of assessing how insect pollinator populations are changing across Britain. The FIT Counts involve observing and recording the insects that visit flowers within a small (50cm x 50cm) quadrat for ten minutes. There have been more than 1700 counts completed in 2020 – remarkable! However, we are always pleased to welcome new participants to the scheme and look forward to seeing even more observations in coming years.
I would like to thank the reviewers involved throughout the production of "Brilliant Bugs" for their thoughtful and insightful comments. 
The stamps and products can be found at www.royalmail.com/brilliantbugs.
Additional information
1Triungulins are the first instar larvae of oil beetles (Meloidae). On hatching in burrows in the ground they scramble to the top of a flower to await a passing bee because they need to hitch a ride to the bee's nest where these tiny larvae then complete their development by feeding on bee eggs and the pollen store.