We hosted an event in London this week to celebrate and consider the publication of Habitat Creation and Management for Pollinators, the new, free practical guide for conserving insect pollinators published by the Centre for Ecology & Hydrology and the Wildllife Farming Company.
Representatives from a wide variety of land management and farming organisations attended, including the National Farmers' Union, Agrii, Buglife, the Wildlife Trusts, Farmers' Weekly, Atkins and Defra.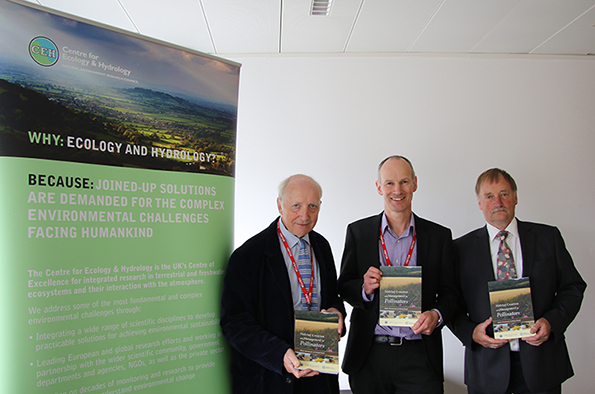 L-R: Lord Selborne, Richard Pywell (Centre for Ecology & Hydrology), Marek Nowakowski (Wildlife Farming Compan
The authors, Professor Richard Pywell of CEH, and Marek Nowakowski of the Wildlife Farming Company, were present to explain more about how the guide draws on 20 years of applied science and practical experience. Lord Selborne, who contributed the foreword to the book, introduced the authors, telling the audience, "wildlife can and must exist with modern and profitable agriculture." He said the guide showed the clear benefits of practitioners working closely with research scientists to develop workable and tested solutions.
Prof Richard Pywell was next to speak, talking through some of the scientific issues, from mapping and assessing pollinator declines, to the importance of landscape, and the need for improved pollinator monitoring. Marek Nowakowski then presented on the practical implementation of the science and the issues involved. He described it as an emotional day, celebrating 40 years of work and explained that he turned things from Latin (scientific research) into farmer digestible material - the power of the white coat and the welly boot.
A lively Q & A discussion followed the presentations, focusing on how to engage people including farmers, agronomists, and members of the public, with the messages contained in the guide. The authors were congratulated on bringing together the results of two decades of research into a format that is easily digestible for land managers, farmers, and conservationists.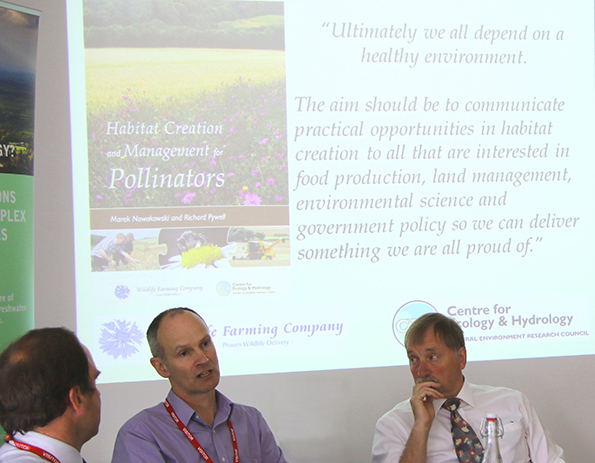 L-R: Barnaby Smith (CEH), Richard Pywell and Marek Nowakowski during the Q&A.
Below you can view slides from Richard's presentation explaining more about the science behind the guide:
How to obtain your free copy
Additional information