CEH staff past and present were recently awarded Honorary Memberships of the National Biodiversity Network Trust. Their colleague Dr Oli Pescott tells us more...
Dr Mark Hill
It was wonderful to see CEH Emeritus Fellow Dr Mark O Hill made an Honorary Member of the National Biodiversity Network Trust at the recent NBN 2017 Annual Conference. Mark was given this honour for his outstanding personal contribution to biological recording. Mark has been recording bryophytes for over 50 years in association with the British Bryological Society, which he joined in 1965. For much of this time he worked as a professional ecologist at CEH and his recording was a spare-time activity, but he was appointed head of the Biological Records Centre in 2003 and from then until (and beyond) his retirement in 2010 he made major contributions to the techniques for analysing biological records.
Image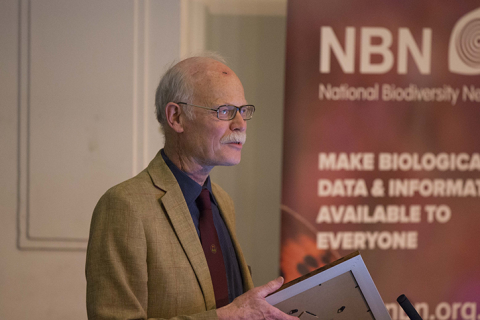 Mark Hill speaking at the NBN conference after receiving his award (Photo by Mark Hawkins)
Although it is hard to summarise such an outstanding career as Mark's, the following achievements played a key role in his receiving this award:
An outstanding personal contribution to biological recording including the mentoring of others – made though the recording of bryophytes for over 50 years and the publication of bryophyte floras of Dorset and North Wales, though his leadership of both local and national field meetings and in the production of successive bryophyte atlases (1991-1994, 2014). 
A long established contribution as a scheme organiser involving, for example, significant advancement of recording methodologies, extension of recording at a national scale to a wider range of taxa, development and application of taxonomy for biological recording – Mark is co-author/editor of two European moss checklists, three national checklists and of accounts of the genus Sphagnum; he also developed data input and validation routines while he was the British Bryological Society's Recording Secretary (2004-2013).
Through a major motivational leadership role in biological recording contributing to the NBN – the promotion of open access to data both in the BBS and, while head of BRC, more widely.
Innovative use of the data collected by Biological Recorders that significantly advances understanding or influences policy and practice – the development of methods for analysing biological records, notably the widely used FRESCALO program. Pioneering work on the use of biological records to understand biological invasions and the impacts of climate change.
Image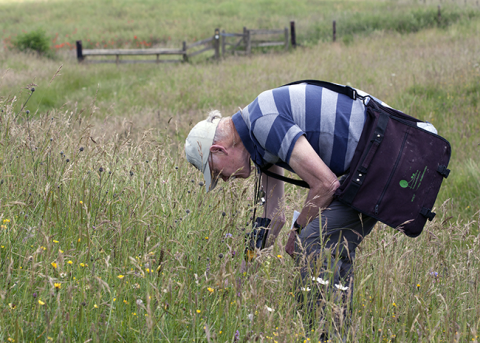 Mark recording in the field during the BRC 50th anniversary celebrations
Although biological recording played a very large part in Mark's career, he is also a world renowned mathematical ecologist, and has contributed numerous insights and computational tools that have supported developments in community ecology and biogeography, as well as taxonomy. Mark was the first ecologist to note the mathematical unity underlying the concepts of species richness and the Shannon and Simpson diversity indices – indeed, his suggested transformations of these indices are still referred to today as 'Hill numbers', and have recently received renewed attention in both community ecology and genetics through the work of Lou Jost and Ann Chao. Mark's paper 'Diversity and evenness – a unifying notation and its consequences' is one of the most widely cited papers in ecology from the 1970s, and one which still has both practical and analytical implications for analyses today.
Mark's many other significant contributions to ecology include Detrended Correspondence Analysis, Hill-Smith ordination, TWINSPAN, PLANTATT and BRYOATT, and TABLEFIT. The latter is particularly widely used in applied ecology and consultancy, matching vegetation data to the existing categories of the British National Vegetation Classification. Mark's broad expertise is unlikely to be matched again this century!
Mark's broad expertise is unlikely to be matched again this century!
Prof Helen Roy
Meanwhile Prof Helen Roy was another recipient of Honorary Membership of the NBN Trust at the recent conference. Helen's award was in recognition of her unique contribution to biological recording through the running of the UK Ladybird Survey, as well as recognising her important role at CEH and the Biological Records Centre in the wider NBN data-provision process.
Over the past ten years or more, Helen has been a tireless enthusiast for public engagement in biological recording. Her academic work has also demonstrated to wider audiences the value of broad-scale NBN data in analyses of biodiversity functions and impacts. Read more about Helen's work via her staff page and blog posts and follow her on Twitter @UKLadybirds
Everyone at CEH congratulates both Mark and Helen on their well-deserved awards!
Additional information
See an NBN Trust news story about their Honorary Membership awards.
Dr Helen Roy has been awarded NBN Honorary Membership - congratulations! pic.twitter.com/QbeyyzPVhZ

— NBN Trust (@NBNTrust) November 17, 2017
Dr Mark Hill has also been awarded NBN Honorary Membership - congratulations! pic.twitter.com/9Clwzvhy7K

— NBN Trust (@NBNTrust) November 17, 2017
Few areas in #ecology that Dr Mark O. Hill hasn't influenced: Hill numbers, #DCA, TWINSPAN, TABLEFIT, #bryology, early #SDM work, #citsci analyses... https://t.co/vzoLyHSIUj

— BRC (@___BRC___) November 17, 2017
Yep, Dr Mark Hill is a hero to botanists, bryologists & ecologists (and a lovely bloke to boot). Great news that he has been awarded @NBNTrust honorary membership :-) https://t.co/jZrvSBDSJM

— BSBI (@BSBIbotany) November 17, 2017