In two previous blog posts this month, we explored how the hydrometric data held by the National River Flow Archive and the National Groundwater Level Archive have been used in past and present scientific research, and how such a valuable data resource is vital for taking a long view of both hydrological trends and significant one-off events. Our series has coincided with a special meeting, on Tuesday 22 October 2013, to celebrate 30 years of the NRFA being hosted at CEH's Wallingford site. To conclude the series, Jamie Hannaford, head of the National River Flow Archive, looks to the future and at what the next few years might bring...
The past 30 years have seen incredible change in how we do our jobs, most obviously in the technology used to gather and disseminate hydrometric data. The next 30 years will undoubtedly see huge change again. When you think about it, 30 years is a generational timescale, it's a career span, it's a period that can expect to see life-changing developments. Hydrometric data and analysis is already important to society for underpinning effective water management, but it will assume even greater importance in global water management over the next 30 years, thanks to the challenges of population growth and movement, land use change and of climate change leading to an intensification of the hydrological cycle.
Image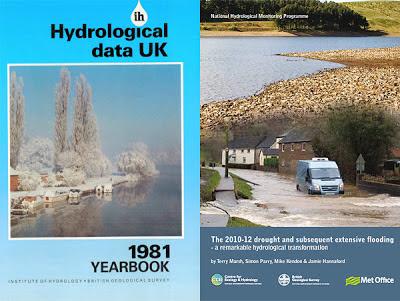 The NRFA, as the UK's national hydrometric information service, will be crucial to meeting these challenges, lying as it does at the heart of the hydrometric information lifecycle and managing as it does a long-term archive that will be able to take an ever longer view of events such as the 2010-2012 drought to flood transformation. Reliable, easily accessible, contextualised data and analysis will play a key role as scientists and water practitioners meet the world's water resource management needs.
From the original print publications the NRFA delivered in the 1980s, to the digital outputs it now provides, our data is already, and will continue to be, served in many formats, but our fundamental maxim will always be to turn the data into valuable information. We always make sure we know where the data is coming from, so we can guide our end users.
The technological landscape will certainly continue to develop. Will we be a nation of armchair hydrologists by 2043? In some respects, thanks to remote sensing and satellite capabilities, it's possible to some extent now. But as well as opportunities, technology brings its own challenges - both in the huge amount of data that can be gathered and in the interpretation and validation of that data. For all the hydrometric data that can be gathered, we still need to understand what it is telling us. And we still need our monitoring partners to collect data first-hand to complement the models and the satellite technology.
Image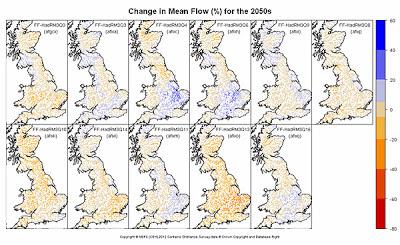 Future developments 
An important area for the NRFA now is to look at how to integrate our river flow data with other types of monitoring, for example near real-time soil moisture data, citizen science initiatives etc, to build up a fuller environmental picture. Our role will be to bring these other types of information together with the river flows; to help with interpreting and understanding them in context with other environmental variables.
Currently we are reviewing our hydrological summaries and looking at different options for enhancement, for example using the best modelling capabilities from CEH and other organisations to deliver improved outlooks and better drought indicators. We are working more closely than ever with international colleagues in organisations such as the US National Drought Mitigation Center and CSIRO in Australia, and aim to improve the information that we and other national hydrometric data providers can supply. It is a challenging task to undertake when hydrometric networks are under pressure worldwide, along with the resources for long-term monitoring.
In the shorter term, you can expect the NRFA to offer daily catchment rainfall on its website from next year. We will also be taking on the validation for HiFlows-UK [NEED NEW INTERNAL LINK], the UK's principal source of flood peak data, and making this available from our website in the near future.
Who can really say what the NRFA in 2043 will look like? The last 30 years have been a tremendous effort of stewardship, and the next 30 years will be also, but we are ready and able for the challenge, thanks to the support of our partners. Our data and analysis has informed the likes of the Pitt Review on flooding, which followed the 2007 summer floods, as well as the National Ecosystem Assessment and the IPCC's recent 2013 climate change assessment. We will continue to give that much needed national, strategic assessment that is crucial for water management in this country.
Jamie Hannaford
Additional reading
Dixon, H, Hannaford, J and Fry, M J, 2013, The effective management of national hydrometric data: experiences from the United Kingdom. Hydrological Sciences Journal.
The 2010-2012 drought and subsequent extensive flooding - a remarkable hydrological transformation by Terry Marsh, Simon Parry, Mike Kendon & Jamie Hannaford. 2013. PDF [7.05mb]
Hydrometric data - the long view (first in our special blog series on the NRFA and hydrometric data)
An unprecedented hydrological transformation (second in our blog series)
View photos from the NRFA 30th anniversary event on Flickr
Related links