Dr Harry Dixon blogs about a proposal from CEH scientists to develop a pilot World Meteorological Organisation (WMO) global hydrological status and outlook system...
Global hydrological variability poses one of the greatest challenges and threats to the world's population. The World Resources Institute, for example, suggests that some 20 million people are at risk from flooding alone – with the associated damage costing nearly £65 billion. This could rise to 50 million people affected in just 15 years' time. And it's not just the dangers of water-related hazards that present problems but also the demands on water resources and the effects of drought. For instance, the World Economic Forum says that drought across the world costs up to $8 billion a year from losses in agricultural and related businesses.
What is perhaps even more of a wake-up call is that these challenges can only become greater as we try to get to grips with climate change and population growth. The United Nations predicts there will be 9.7 billion people living on our planet by 2050. This in itself presents a significant challenge in a world beset by hydrological variability on a global scale. However, there is currently no operational global system which is capable of assessing the current status of surface or groundwater systems or predicting how they will change in the immediate future.

Photo: The river Elbe floods Meissen, Germany in 2013
At the moment when the general public asks us "how much water is there in rivers around the world at the moment?" the hydrological community cannot adequately respond. Similarly, when aid agencies or politicians ask "how might the global flood/drought situation change in the coming month?" we can draw upon information from the meteorological community but as hydrologists we don't currently have the answers.
The case, therefore, for a World Meteorological Organisation (WMO) hydrological status and outlook system cannot be clearer. I recently joined my colleague Professor Alan Jenkins, Deputy Director & Water and Pollution Science Director at the Centre for Ecology & Hydrology, in presenting a proposal for such a system at the fifteenth session of the WMO Commission for Hydrology in Rome.
Pilot programme
The ambitious proposal was met with broad support from a wide range of the National Hydrological Services who make up the Commission and we now have agreement to launch a pilot programme between 2016 and 2020 that will develop a worldwide operational system at monthly timescales capable of providing:
An indication of the current global hydrological status including groundwater, river flow and soil moisture;
An appraisal of where the status is significantly different from 'normal,' for example indicating drought and flood situations;
An assessment of where this is likely to get worse over coming weeks and months.
Over the coming month an expert task team made up of people from around the world will be convened to take forward the initiative. The programme will look to directly build on other current WMO initiatives in relation to hydrological monitoring, data sharing and seasonal meteorological forecasting, to deliver a unique operational system providing up-to-date hydrological information from National Hydrological Services to a range of end-users. While the system's products would be global they would also be capable of providing information on a regional and national scale.
Central to the programme will be working out how to bring together and build on current capabilities which exist around the world. Here in the UK, the National Hydrological Monitoring Programme (NHMP) which is jointly undertaken by the Centre for Ecology & Hydrology and the British Geological Survey has, since the 1980s, provided routine monthly Hydrological Summaries assessing current status. In recent years CEH has been working with partners to produce an insight into future hydrological conditions across the country through the UK Hydrological Outlook. Similar initiatives also exist in other parts of the world, delivered by both operational hydrological services and the academic community.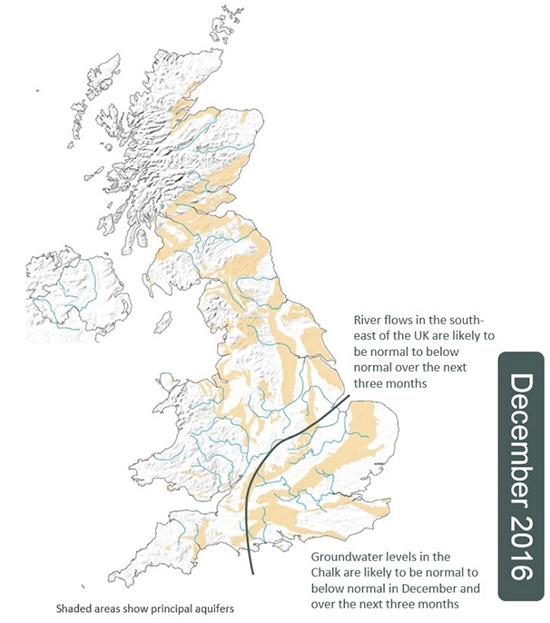 Image: The UK hydrological outlook for December 2016
Over the next few years CEH will be taking a lead role in establishing this new global initiative. We have a long history of working closely with the Met Office to provide UK input to WMO. This new initiative and my election to the Commission for Hydrology's Advisory Working Group (the central body responsible for implementing the work of the Commission) means that we will continue to grow our contributions to global hydrological initiatives over coming years.
The challenge now is to operationalise these by bringing together WMO Members to develop simple, easily accessible, hydrological information which can be made accessible to government bodies as well as regional/international aid agencies and the general public.
Water features heavily in the new UN Sustainable Development Goals, not only in the explicit aim to ensure availability and sustainable management of water and sanitation for all but also because of the underpinning nature of water-related issues across many development areas. The need to start building a global system capable of assessing the global hydrological situation – where the benefits will be for all of the world's growing population – is clear. Indeed, the challenges posed by hydrological variability mean our very wellbeing depends upon it.
Dr Harry Dixon
Additional information
Staff page of Dr Harry Dixon, CEH
Staff page of Prof Alan Jenkins, CEH
WMO news: Commission for Hydrology gives go ahead to WMO-HydroHub