Jodey Peyton writes about a recent project during which she and colleagues Owen Mountford and Oli Pescott from the Centre for Ecology & Hydrology and Marilena Onete of the Institute of Biology, Romania investigated invasive plant species in a region of Cyprus.
I was one of a team of scientists who spent two weeks in Cyprus in early October 2015 as part of an EU-funded COST Short Term Scientific Mission. Our aim was to map the extent of several invasive plant species around the salt lake on the Akrotiri peninsula (34°37′N 32°58′E). We were there to work with the UK Sovereign Base Area (SBA) Joint Services Health Unit (JSHU) and the SBA Environment Centre at Akrotiri. Lake Akrotiri and the surrounding area form part of a UK Overseas Territory in Cyprus, established in 1960 when Cyprus achieved independence from the British Empire.
Image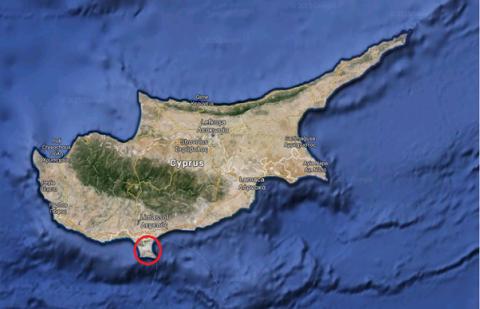 Location of Sovereign Base Area of Akrotiri.
Imagery © 2015 Data SIO, NOAA, US Navy, NGA, GEBCO Landsat, Map data © 2015 Google, Mapa GIsrael, ORION-ME. See on Google Maps.
Our team's work was focused primarily on mapping the presence of woody invasive species to he north of the lake in the area comprising the Akrotiri forest. The area surveyed, historically marshland, was planted with non-native eucalyptus and other Australian tree species in the early 20th century in an effort to dry out the marsh and reduce the impact of mosquitoes. The extent to which this has been successful is unclear due to the lack of long-term monitoring in the area, but currently this area of dense woodland is considered to be highly problematic in terms of harbouring pest species such as rats and mosquitoes.
Image

Left to right: Owen, Oli and Jodey in Akrotiri forest (photo: Mari Onete)
To carry out the mapping, Oli and Owen, using tablet computers and a GIS mapping system, walked the area around the lake, mapping locations where non-native plant species were encountered. In the Akrotiri forest to the north of the lake this was a much larger task - in order to carry it our effectively, forest compartments were mapped, together with a description of the mix of species and any variation.
In the second phase of the project, the whole team quantified the density of shrub and tree cover in the forest compartments and recorded any other plant species they found in an effort to characterise the plant associations typical of areas where invasive plant species are dominant. During the two weeks the team also recorded the presence of rare plants listed in the Cypriot Plant Red Data Book found around the site.
Image
Image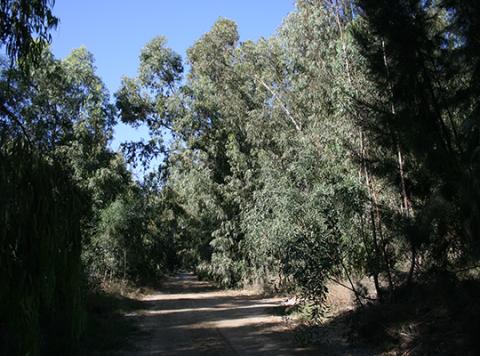 Eucalyptus, Casuarina and Acacia trees, non-native species in Akrotiri forest (photo: Mari Onete)
This second phase was intended to establish a baseline of plant diversity present in the forest. It is important to establish this baseline, due to discussions on the future of the forest currently being carried out by a large number of stakeholders. The area is home to huge numbers of mosquitos, due to the fact it is effectively still marshland, and their presence is a major nuisance for both staff at the base, business owners and the public. There is a pressure on the JSHU to try to minimise the impact of mosquitoes and other pest species such as rats, as well as pressure to protect the native species present on this important Ramsar wetland site.
Image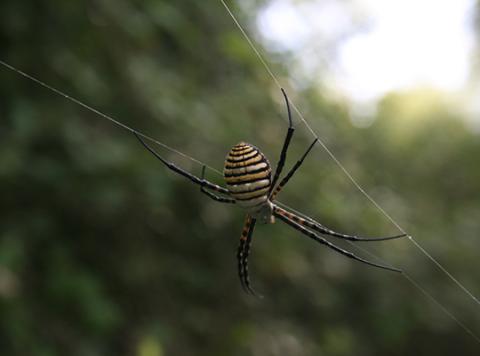 Argiope spider in Akrotiri forest (photo by Mari Onete)
Part of the suggested future management of the forest is felling it entirely to eradicate the habitat in which pest species can be harboured. Below are some factors that impinge upon this decision:
Factors in favour of retaining the forest
Buffer to chemical and noise pollution from neighbouring farmland and road systems
Provides timber and fire wood
Provides a nectar source for bees
Provides shelter to escape summer heat and a local cooling effect
Provides important roost sites for migratory birds
Provides a location for recreational activities, such as dog-walking, mountain-biking and nature photography
Factors that support clearance of the forest
Harbours mosquitoes and rats
Provides areas for antisocial human activity; for example, there are numerous instances of fly tipping
Non-native plant species affecting soil and native species communities, resulting in probable decreases in species diversity
Encroaching onto salt marsh and lake that is itself important for biodiversity (Ramsar site and designated under EU directives)
This work was funded by COST Action TD1209 Alien Challenge, a European-wide project on invasive alien species and has enabled botanists from CEH to give the JSHU and the SBA Environment Centre a clearer understanding of the extent of the spread of these invasive species, and to provide a context in which future essential baseline surveys looking at other species (birds/pest predators), as well as hydrology and water chemistry, can be targeted. The ecology of the lake and surrounding habitats is extremely complex, with many different stakeholders having ideas and opinions as to the value of the forest.
What is certain is that in order to be able to stand any chance of explaining the impacts of any management of the forest, we need to understand more clearly what is present on site now.
For example, clearing the forest, although possibly providing short-term relief from mosquitoes, may have detrimental impacts through the loss of roost sites for migrating birds. There is also potential for an increase in the levels of pollution of the lake if the forest and its soils are currently acting as a buffer to pollutants from adjacent road networks and farmland.
Only with more studies and research can answers be found to this complex situation.
Jodey Peyton
Additional information
Staff page of Jodey Peyton, CEH
Staff page of Oli Pescott, CEH