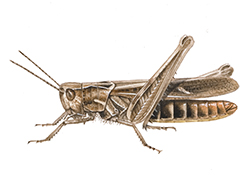 The new iRecord Grasshoppers app helps you identify the grasshoppers, crickets, earwigs, cockroaches and stick-insects that you see or hear, and lets you record sightings to support their study and conservation. It's out now on the App Store and Google Play.
Björn Beckmann of CEH, who helped create the app, said, "Many species have been declining, but others have expanded their distributions and some have even newly arrived. The Grasshoppers and Related Insects Recording Scheme maps and analyses distributions to see how species are responding to changes in land use and climate. This work would not be possible without the help of people reporting where they find a species, and we hope the app will make this easier."
iRecord Grasshoppers app and Grasshoppers recording scheme:
Orthoptera
Grasshoppers and crickets are in the Orthoptera order of insects. The chirping of grasshoppers and crickets is one of the quintessential sounds of summer. They can be very numerous in some habitats and play essential ecological roles - for example as a food source for threatened species like skylarks, grey partridges, cirl buntings, corncrakes and harvest mice - or as predators helping to control pests such as aphids. In Britain there are 28 species of native grasshoppers and crickets (10 bush-crickets, 4 crickets, 3 groundhoppers, 11 grasshoppers), plus the associated species of 3 native cockroaches, and 4 native earwigs.
The difference between grasshoppers and crickets:
Sounds of summer
App development
The app was produced by the Biological Records Centre at CEH and the Grasshoppers and Related Insects Recording Scheme, and developed by Natural Apptitude. It was partly supported with funding from NERC's Innovation A Fund.
CEH's Innovation Manager, Nicholas Corker, told us, "Beneath the surface of this attractive and informative app are a number of innovative features, not least the ability to identify Orthoptera visually and aurally and enabling the observer to geo-position a sighting. The CEH Orthoptera App will encourage both the enthusiast and novice to enjoy and explore the characteristics of the Orthoptera whilst contributing to a national recording scheme."
For more information about grasshoppers, crickets and related species see the Grasshoppers and Related Insects Recording Scheme of Britain and Ireland.
Related links
Watch a longer video about the recording scheme and the new app