The iRecord website, supported by a range of apps, makes it easier than ever for wildlife sightings to be recorded by enthusiasts, checked by experts and the data made available to support research and decision-making at local and national levels.
At CEH we don't just support the technology behind these citizen science apps. Our scientists use such biological recording data all the time - so a big thanks to everyone who has taken the time to contribute records and help build the iRecord database. This is in large part due to the efforts of volunteer recording schemes and their expert verifiers.
In 2016 (a leap year), some 365,594 observations were made on the iRecord system – that's almost 1000 per day on average!
The visualization above shows where in the UK the observations were made (thanks to Dr Tom August for producing)
In 2016, some 365,594 observations were made on the iRecord system – that's almost 1000 per day on average!
Some more numbers from iRecord in 2016:
The 365,594 observations were of more than 14,000 species.
The top recorded species was the Harlequin Ladybird – 4163 observations were made of this invasive non-native species.
The busiest days were 5th-6th June, coinciding with uploads from the popular Garden BioBlitz – some 12,000 observations were made during this weekend which sees enthusiasts and newbies alike spending time in their garden and recording what they see.
The species group with the most records (69,132 observations) was moths.
The species group with most species recorded (2141 different species) was flowering plants.
Observations were submitted by 6500 different people – thanks again to each of them!
The top recorder in terms of the number of observations they made submitted 17,152 records – an amazing job.
The top recorder in terms of the different species they recorded contributed records on 2584 species – an incredible variety.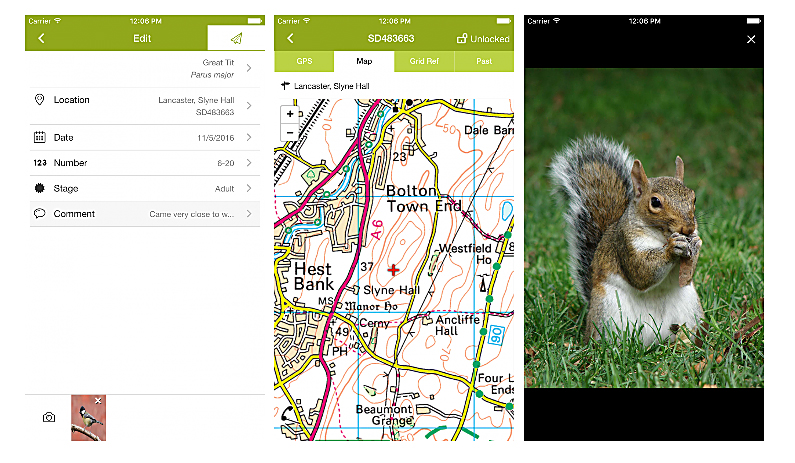 Record on the go with the general iRecord app
In 2016 we launched two new apps: the Rare Arable Flowers app is aimed at a specialist audience looking for some of the UK's rarest plants. However the general iRecord app allows wildlife enthusiasts to collect sightings on practically anything they see.
Our citizen science apps for different species groups also continue to be popular. In 2017 with spring in the air, we've already seen lots of records for butterflies and ladybirds. And as the year progresses, we'll be seeing observations from the likes of our iRecord Dragonflies and iRecord Grasshoppers apps.
There's really no time like the present to see the range of apps available to suit your own interests and help to grow the iRecord database even further.
Additional information
More citizen science resources from CEH
News: Mobile technology helps save rare plants
News: New app to record full range of UK wildlife
This article was amended to recognise that 2016 was a leap year and that average observations per day were almost 1000.