Dr Maria Bogdanova tells us more about new international research* examining how events in one season can influence performance in subsequent seasons, in this case studying kittiwake populations at breeding colonies in the north-east Atlantic...
Many animals show a clear annual cycle where successive breeding events are separated by a period when individuals may migrate to distant wintering grounds. Events in one season can influence performance in subsequent seasons, and these are called 'carry-over effects'. For example, breeding performance can impact on subsequent wintering ecology because reproduction requires a lot of energy and it can take breeding individuals time to recover. Similarly, conditions experienced at the wintering grounds can affect the time needed for an individual to get into breeding condition the following spring.
Such seasonal interactions are a focus of increasing research interest because of their potential to impact on population dynamics.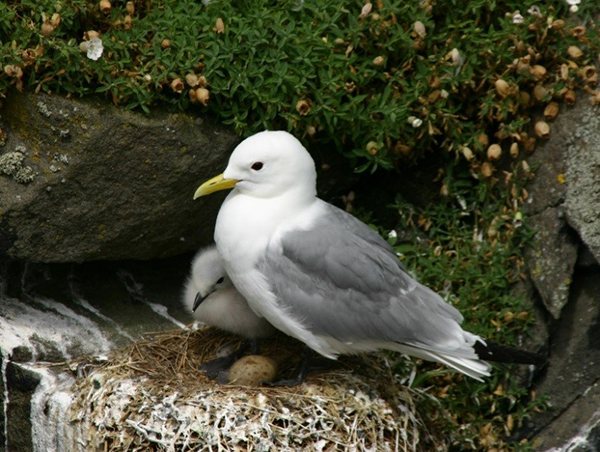 Image: The black-legged kittiwake, a migratory seabird experiencing large population declines over much of northern Europe related to reduced breeding success. (Photo by Mark Newell)
Most studies to date look at carry-over effects across two seasons in single populations. However, they may persist over longer time periods and may vary across a species' range. As part of an international collaborative project, we attached miniature data loggers (geolocators) to black-legged kittiwakes, a small species of gull, at 10 breeding colonies in the north-east Atlantic and recorded breeding success in the year of logger deployment and in the subsequent year. Geolocators record the bird's location throughout the winter. These data allowed us, for the first time, to assess potential carry-over effects across the annual cycle in multiple populations.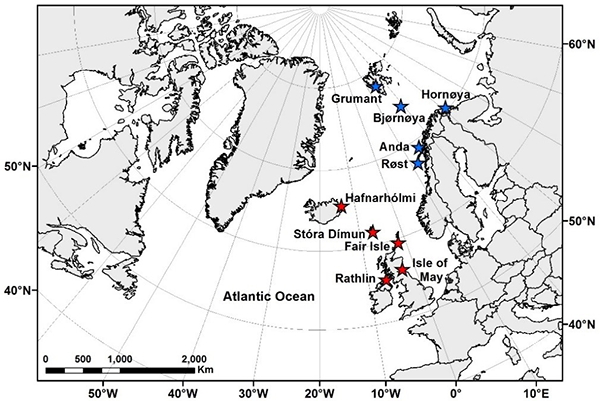 Image: Location of the 10 study colonies (blue star: north-east colonies, red star: south-west colonies)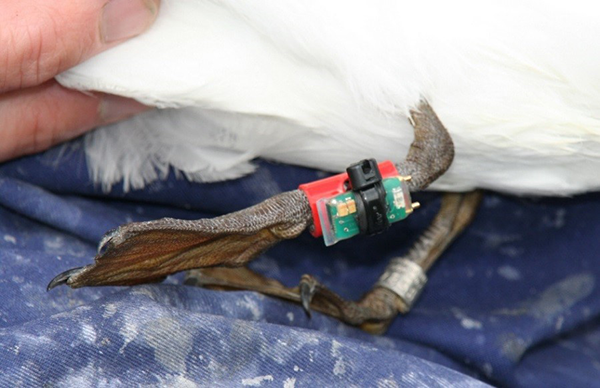 Image: A geolocator attached to one of the study birds. (Photo by Mark Newell)
We investigated whether breeding success affected the timing and destination of subsequent migratory movements and whether these in turn affected breeding success in the subsequent year. Immediately after the breeding season kittiwakes from colonies at the north-east (NE) and south-west (SW) part of the study region used different areas. Subsequently, however, breeders from all colonies wintered primarily in the north-west Atlantic between Newfoundland and Greenland.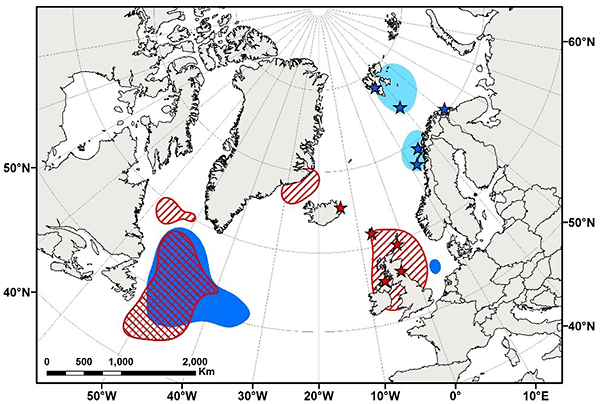 Image: Core areas used by kittiwakes after the breeding season (August-September: NE colonies light blue, SW colonies red diagonal hatching) and in mid-winter (December: NE colonies dark blue, SW colonies red cross hatching)
Variations in space and time
The strength of carry-over effects between breeding success and subsequent migration varied in space and time. In SW colonies, unsuccessful breeders departed the colony earlier, arrived at the post-breeding and main wintering areas sooner and departed later the following spring compared to successful birds. In contrast, in NE colonies there were no differences in the scheduling of migration events between successful and unsuccessful breeders. The effects of breeding success on migratory movements weakened over the course of the winter and by the time individuals arrived back at the colony the following year, differences between previously successful and unsuccessful individuals had disappeared. Effects of migration timing on subsequent breeding success were much weaker, and there was no detectable association between breeding success in the two seasons.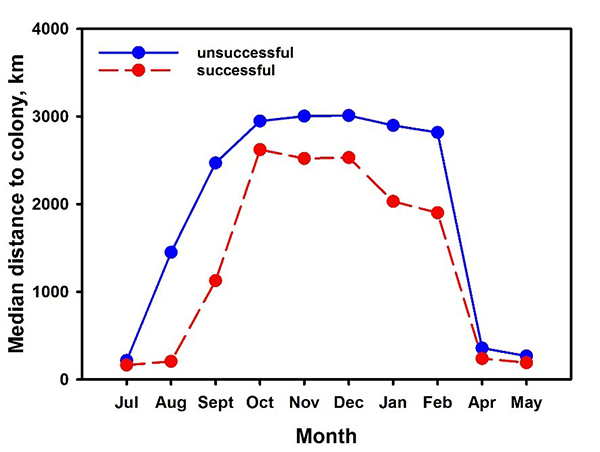 Image: In SW colonies, the timing of autumn and spring migration was related to previous breeding success, as illustrated by distance to the colony in August-September and February. Unsuccessful breeders departed the colony earlier, arrived at the post-breeding and main wintering areas (on average around 1300km and 3000km from the colony, respectively) sooner and departed later the following spring compared to successful ones.
Variable consequences for individuals from different colonies could have important implications for population processes across the species' range.
Our study demonstrated that the region between Newfoundland and Greenland is a key wintering area for kittiwakes but there are differences in how and when individuals from different colonies use the area dependent on the location of their breeding colony and their own breeding performance. Further multi-population studies of widespread migratory species are needed to determine whether these complex seasonal interactions are typical.
Additional information*
The full paper reference is: Bogdanova, M I, Butler, A, Wanless, S, Moe, B, Anker-Nilssen, T, Frederiksen, M, Boulinier, T, Chivers, L S, Christensen-Dalsgaard, S, Descamps, S, Harris, M P, Newell, M, Olsen, B, Phillips, R A, Shaw, D, Steen, H, Strøm, H, Thórarinsson, T L & Daunt, F. (2017) Multi-colony tracking reveals spatio-temporal variation in carry-over effects between breeding success and winter movements in a pelagic seabird. Marine Ecology Progress Series (available online). DOI: 10.3354/meps12096
Organisations involved in the study: Centre for Ecology & Hydrology, Biomathematics & Statistics Scotland, Norwegian Institute for Nature Research, Aarhus University, Centre d'Ecologie Fonctionnelle et Evolutive, Norwegian Polar Institute, Faroe Marine Research Institute, British Antarctic Survey, Natural Environment Research Council, Northeast Iceland Nature Research Centre.
Staff page of Maria Bogdanova.
The Isle of May was one of the study sites. See more about CEH's long-term monitoring on the Isle of May.