Jamie Hannaford, Leader Hydrological Status & Reporting Group at the Centre for Ecology & Hydrology, presents an update on the current hydrological situation which shows that parts of the UK have been unseasonably dry in April...
The hydrological monitoring and assessment systems maintained by the Centre for Ecology & Hydrology currently indicate that parts of the UK have been unseasonably dry in April, adding to a longer spell of dry weather since the autumn of 2016 and earlier in some places.
In this short blog post, we provide a snapshot of the current hydrological situation, bringing together our various situation monitoring and forecasting tools. These include some major multi-agency initiatives, the Hydrological Summary (running since 1988) and Hydrological Outlook (since 2013) that we have developed alongside our partners in the Met Office, British Geological Survey, and the measuring agencies who provide us with much of the underlying data (Environment Agency, Scottish Environment Protection Agency, Natural Resources Wales, Rivers Agency Northern Ireland).
We invest significant resources in these systems to provide up-to-date information on the water resources situation – and its likely future evolution – for the UK as a whole.  We provide this information to a very wide range of users, including government agencies, regulators, the water industry, farmers, growers and range of other businesses, as well as the wider public and the media.
Firstly, it is immediately apparent that April so far has been exceptionally dry across much of the country (as discussed in a recent Met Office Blog). At our Wallingford Meteorological Station, we have received only 1.2mm of rainfall since 23rd March.
Image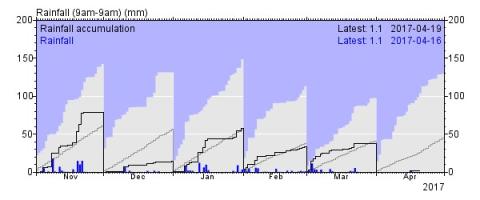 Wallingford Meteorological Station rain gauge up to 19th April 2017
The dry weather, and the warmth of the spring so far, has led to very dry soils.  Data from the CEH COSMOS-UK system, which uses cosmic rays to indicate the hourly soil moisture at 50 locations across the country, indicate that soils in parts of the UK are currently at the moisture status we would normally see in summer, as shown for a site in Buckinghamshire below.  COSMOS data are updated automatically in real-time, so the site can be used to keep a regular track of soil moisture status.
Image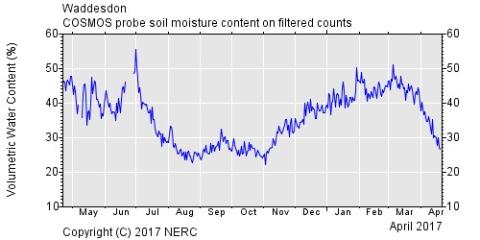 Waddesdon COSMOS site is located in Buckinghamshire, SE England. Current soil moisture content is already at the levels experienced in August last year.
The dry April extends a long dry period for much of the south and east of England.  This is evident from our recently published Hydrological Summary, which uses data to the end of March (n.b.the next Summary including April data will be published on 15th May).  The Summary shows that river flow for March were unseasonably low in parts of South East England. Groundwater levels were similarly on the low side for the time of year.
The low river flows and groundwater reflect the very dry winter half year we have seen in the south-east, but over this period it has been dry across the country.  While February and March were fairly wet in some parts of the north and west, the October to March period as a whole was very dry for the UK, and exceptionally so in some places (it was the fourth driest October-March period on record for Northern Ireland).
These rainfall deficits are evident in river flows averaged over this period (see map below).  However, it should be noted that in general reservoir stocks are around average for the end of March (though they remain below average in a few Southern reservoirs), thanks to more plentiful rainfall in late February and early March.
Image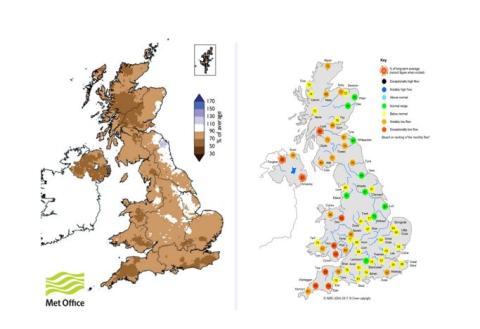 From March's Hydrological Summary, showing rainfall (left) and river flows (right) for the winter half-year (October – March)
The question that will spring to mind is perhaps inevitable: what will happen next?  To help users look forwards, we produce the monthly Hydrological Outlook, which uses observational data and a suite of hydrological models to project likely rainfall, river flows and groundwater levels over the next 1 – 3 months and beyond.
The current Outlook, issued on 11th April, indicates that below-normal river flows and groundwater levels are likely to prevail over the next three months in south-east England, and could be very low in some localities.  Certainly, we do not generally expect a significant recovery of groundwater levels in the spring or summer. As evapotranspiration rates climb steadily, less rainfall makes its way into aquifers, so even if we see normal rainfall amounts going forwards, groundwater levels are likely to continue to recede.
So, all sources point to the current dryness of the situation.  If this situation persists, it could potentially lead to some localised pressure on water resources in the summer.  We will continue to monitor the situation using all of these tools, and will continue to work with our partners to provide updates. The regulators, water companies and other stakeholders are also tracking the situation and working together to minimise the potential for any impacts to people and the environment should the dry weather continue.
It is also worth remembering that the hydrological situation can change rapidly, even in the spring and summer – as happened spectacularly in 2012, when a long-term drought situation that had developed up to March ended with widespread flooding that summer (for further info see here).
We will be posting further information in the next few weeks. A new source of information, the UK Drought Portal, is being released next week. This is an update to the current Drought Portal, but with up-to-date rainfall added. It will allow users to explore recent rainfall in an interactive way, through an online mapping and data plotting tool. We will be launching this next Wednesday 26th April and will produce an accompanying blog post.
Other important dates to look out for:
Next Hydrological Outlook: Tuesday 9th May
Next Hydrological Summary: Monday 15th May
COSMOS UK can be checked any time for updates, which are automatically added on an hourly basis.
Another important information source is the Environment Agency's Water Situation Reports for England, which also provide a weekly rainfall and river flow briefing, therefore providing more up-to-date info than the monthly Hydrological Summaries and Outlooks.