CEH and BGS scientists engaged in water situation monitoring and forecasting in the UK have produced their latest update on the current hydrological status...
This is the third in a series of Hydrological Status updates we have written in 2017.
Firstly, back in April, we wrote a blog post about the hydrological situation resulting from the very dry winter and spring. We then wrote an update in August, asking 'whatever happened to the drought?' and describing something of a hydrological transformation: concern over drought had faded away, at least in popular attention, owing to a notably wet summer. However, we cautioned that the prospect of drought conditions could not be forgotten about altogether and the coming autumn and winter would be an interesting time. These seasons are the most important for water resources in the UK, when groundwater recharge and reservoir replenishment typically occur. Now mid-December, we look at the current situation and the prospects for the winter and beyond.
Where are we now?
The latest (November 2017) Hydrological Summary shows that dry weather has returned to southern and eastern England in autumn 2017, after the damp summer. November rainfall was near-average for the UK as a whole (see map below), but many areas of southern England received less than half the typical November rainfall. October was also notably dry in the south east, meaning autumn as a whole was dry in many parts of England; Thames and Southern regions received less than 70% of average.  However, parts of north-west England have been very wet: some areas in north-west England and northern Scotland received over 150% rainfall in November, and there have been a number of localised flooding episodes in the north this autumn (eg in Lancashire in late November).
Image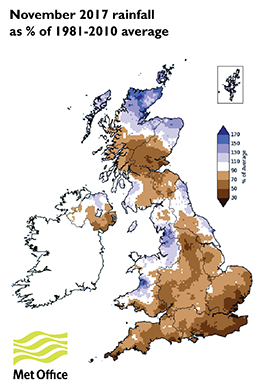 Image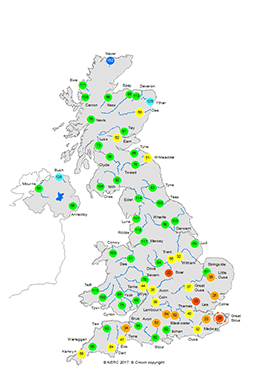 Image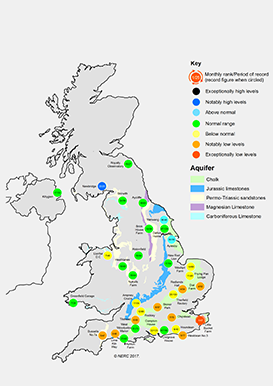 Images: The hydrological situation in November, showing rainfall (left), river flows (centre) and groundwater levels (right). Click to see larger images.
The impact of the dry weather can be seen in the November river flows and groundwater levels. Across central and south-east England river flows were generally below normal, and exceptionally low in places, including the Great Stour in Kent, where a new November minimum flow was registered. Groundwater levels in parts of the Chalk of southern and eastern England continued to fall, and remained notably low in many boreholes. At Little Bucket Farm (Kent) the lowest end-of-November level was recorded in a series from 1971. Recharge is yet to begin in a number of sites in the southern Chalk. The low groundwater levels have caused low flows in many groundwater-fed rivers; notably low flows have been reported in parts of the Chilterns, resulting in a contraction of the stream network.
The dry autumn has, unsurprisingly, refocused attention on the current water resources situation. In addition to the low groundwater levels and river flows, in some parts of the south-east, reservoir levels were also substantially below average (for example, >30% below average at Bewl in Sussex, the lowest November stocks on record).  
Of course, the Hydrological Summary provides a snapshot of the situation at the end of November. More up-to-date information is available for COSMOS-UK and in online resources from the Met Office. Generally, in December so far rainfall has been below average but a significant snowfall in Wales and central England on 10th December is likely to push rainfall above average for December in many areas.
While most areas in the south-east finished November recording below-average soil moisture levels, rainfall in early December since has led to slight increases. COSMOS-UK shows that soil moisture is around typical for the time of year – although the COSMOS records are very short. The plot below (from Lullington Heath in east Sussex) shows that soil moisture is higher than early winter last year, but significantly lower than during the wet winter of 2015/2016. The plot also shows the largely below average soil moisture content from August 2016 – May 2017.
Image


Image: COSMOS-UK soil moisutre content for Lullington Heath (E Sussex)
How did we get here?
Across the south-east of England, groundwater levels and some river flows were already low entering the autumn, despite the damp summer. In the summer, even high rainfall amounts do not necessarily lead to recoveries in groundwater levels or river flows, due to the higher rates of evapotranspiration when there is extensive vegetation cover, weather is warmer and days are longer. As such, the summer rainfall did not make a significant difference to the hydrological situation in the south-east, and the current below normal river flows and groundwater levels are a reflection of rainfall deficiencies built up over a long period (back to summer 2016 in some areas).  
...the summer rainfall did not make a significant difference to the hydrological situation in the south-east, and the current below normal river flows and groundwater levels are a reflection of rainfall deficiencies built up over a long period...
In much of northern Britain, in contrast, the winter and spring were also very dry but the wet summer effected a greater change in responsive northern catchments; the wet autumn since has turned the focus towards flood risk.
UK Drought Portal
The UK Drought Portal can be used to explore recent rainfall patterns more interactively, allowing users to select rainfall accumulations over custom periods and to map and visualise them in a long-term context.  For November 2017, the Portal shows the very dry autumn in some areas, but also the long duration of rainfall deficits, which can be seen stretching back over long accumulations (12-, 18- and 24-months across much of the country) and which are severe in some areas.
As well as viewing rainfall statistics at a catchment scale, the Portal can also be used to zoom in for finer detail on the underlying 5km grid – the example below shows the particularly low rainfall over the last 18 months in Kent and the Chilterns (nb the Portal is based on a provisional dataset and may differ from high-resolution datasets used in local applications).
Image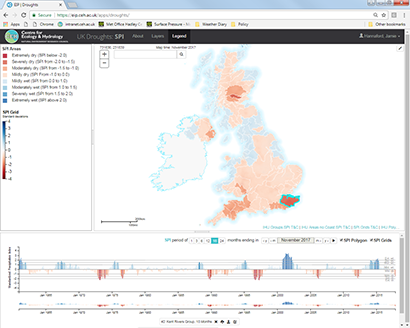 Image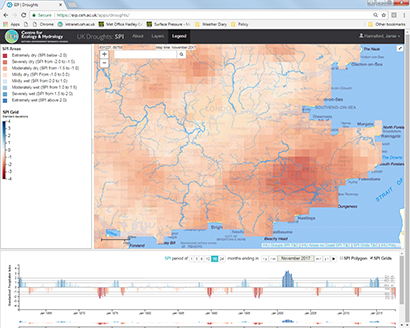 Images: Drought Portal screenshots showing 18-month rainfall for the UK on the left and 18-month rainfall for a 5km grid in southeast England (time series shows a grid point in southern Kent)
What might happen next?
The autumn and winter is a critical time for replenishment of water resources in the UK, particularly in south-east England where groundwater is heavily relied upon for public water supply. During this time, when evapotranspiration rates are low, rainfall recharges aquifers and fills reservoirs. The autumn has been dry, which means that the main opportunity for replenishment in 2017/2018 will be the winter (December – February) and early spring, before evaporation rates start to climb.
The latest Hydrological Outlook suggests that below-normal groundwater levels and river flows will persist over the next three months (December-January) in parts of south-east England. If this tendency is realised, it would further narrow the window of opportunity for significant hydrological replenishment. This could increase the likelihood of drought conditions later in 2018, potentially bringing water resources and environmental stress to parts of southern and eastern England.
Image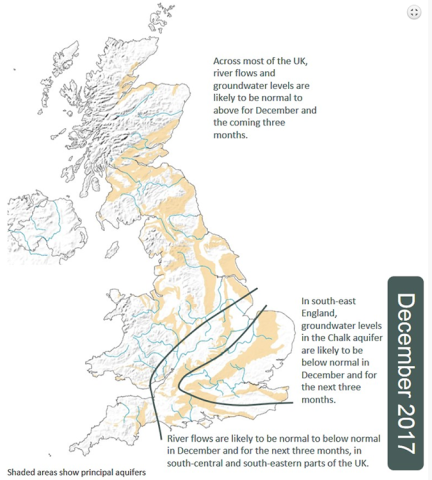 Image: Highlight map from the December 2017 UK Hydrological Outlook
A dry winter would mean that there have been two consecutive dry winter half-years (the winter half year is normally taken to mean October – March). Many recent and historical drought periods have resulted from a succession of dry winters (eg. 2010-2012; 2004-2006; 1988-1992). However, it is important to note that river flows and groundwater levels in November 2017 are not as severe or widespread as in other recent drought episodes; the current exceptionally low levels and flows are more localised than in November 2011 for example.
How reliable are the forecasts?
An important question is: how reliable are the forecasts? The Hydrological Outlook is based on a range of methods, so here we delve into the different methods in more detail (the different elements of the December Outlook can be viewed here, while further information on the methods is presented in a recent paper).
Some methods rely on meteorological forecasts and there is, as is to be expected for the UK's variable climate, a lot of uncertainty in the meteorological forecasts that are used. Having said this, seasonal forecasts for the winter are more reliable than for other seasons. The current meteorological forecasts show a tendency towards wetter conditions for the winter (Dec – Feb), but with a wide range of possible outcomes that also includes the potential for much drier conditions. Furthermore, the rainfall forecast is for the UK as a whole, so it could be very wet in northern Britain but remain dry in the south-east (as has been the case this autumn). When the latest meteorological forecasts are run through hydrological models the most likely outcome is for normal winter river flows across much of the country.
Other Hydrological Outlook methods that don't use the meteorological forecasts (and are based instead on the current hydrological conditions combined with statistical analogues and historical climate information) suggest below normal flows and groundwater levels are likely to persist in parts of south-east England. In hydrological forecasting the 'initial conditions', ie. what the current situation is now, are an important source of predictability for future forecasts. To put it another way, the amount of water currently stored in soils and aquifers will have a big influence on the outlook, particularly in places — like much of south-east England — where the stores are substantial. As such, despite the inherent uncertainty in meteorological forecasts, it is possible to project the likely hydrological evolution over the coming months.
2018 outlook for south-east England
In summary, the outlook for 2018 in south-east England depends strongly on rainfall over the coming winter, and current evidence suggests a continuation of low river flows and groundwater levels is likely. Abundant winter rainfall could change the situation but, given the dryness up to now, significantly above average rainfall is needed to return river flows and groundwater levels in the south east to normal. Of course, things can change unexpectedly, even in the summer half-year (as happened, dramatically, in 2012). 
The dryness highlights the need to remain vigilant and track the status of water resources and appraise hydrological outlooks going forwards. We will continue to use all of the monitoring tools discussed here to provide regular information updates (see below).
The dryness highlights the need to remain vigilant and track the status of water resources and appraise hydrological outlooks going forwards.
Meanwhile, the Environment Agency, water companies and others are closely tracking the situation to assess the prospects for water resources for the winter and next year, and looking ahead to plan actions to mitigate impacts on people and the environment should drought conditions emerge.
Many of our researchers involved in these monitoring and forecasting activities are also working on a major Research Council Droughts and Water Scarcity Programme that is developing new datasets, methods and tools to support decision making. The UK Drought Portal is based on data and indicators derived through the Programme. There is now a major follow-on phase called ENDOWS, working with stakeholders in the water industry, regulators, and a host of other organisations. One aspect of ENDOWS is monitoring and forecasting of drought, in the context of water supply, agriculture, the environment, business and communities – if you are interested and would like to find out more, please email the ENDOWS team.
Stay up-to-date
The Drought Portal will be updated in the first few days of 2018. New weather forecasts for January-March will become available in late December, and the next hydrological forecasts will be available in early January, with the Hydrological Summary following on 15th January. COSMOS-UK has an up-to-date live data feed.
Additional information
Latest UK Hydrological Outlook
The Environment Agency produces weekly water situation updates for England.
November 2017 Hydrological Summary for the UK