Dr Joanne Chamberlain, from CEH's Business Development team, updates us on the ARMA 2016 conference:
Last week I was at the Association of Research Managers and Administrators (ARMA) annual conference in a sunny and warm Birmingham! ARMA is the professional body for the growing cohort of research support staff employed by HEIs and research organisations across the UK and who provide research development support both pre- and post-award – yes, there are lots of people out there like me!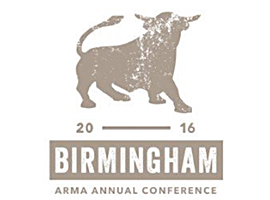 The annual conference is a great forum for discussing the hot topics on the research scene and how they affect our organisations, and for sharing best practice on how we tackle the challenges faced by the research community. The conference runs over two days and involves morning plenaries followed by parallel sessions on a diversity of topics.
This year we had sessions on the government White Paper on reform in the HEI sector with the formation of UK Research & Innovation (UKRI) (the seven Research Councils, Innovate UK and HEFCE), the potential uncapping of tuition fees, relaxation around who can become a 'university' and, in the hunt for the money, whether we will end up with super-sized universities dominating the sector!
On my way to #ARMA2016 to debate @ResMetrics, REF reform & the brave new world of UKRI https://t.co/bQQh7nJGiv @arma_uk

— James Wilsdon (@jameswilsdon) 7 June 2016
I attended parallel sessions on:
assessing risk when working with international partners – potentially an area of concern for CEH as we seek to grow our international income;
the opportunities for growing 'demand-side innovation' emerging from government policy for placed-based regional R&D - a new one on me, but interesting for the current round of Environmental Science Impact Programme (ESIP) projects;
approaches to internal peer review within HEIs with top tips for improvement and motivating staff to get involved;
the challenges and risks of growing income in the 'arms race' to do more research with finite pots of money – this has occupied much of our time at CEH!
There was lots of relevance to CEH in this agenda and I'll next be considering how we can take forward some of the good ideas presented. For anyone with an interest in these topics, the ARMA conference is an excellent event.
Joanne Chamberlain
The scale of #arma2016 is incredible! Fantastic to see @arma_uk pic.twitter.com/MzAix54wKn

— John Rogers (@REOStirling) 7 June 2016
Additional information
CEH's Business Development Team
Association of Research Managers and Administrators (ARMA)