CEH scientists who work on issues including air quality, drought, intense rainfall and climate change were among those at a three-day conference focusing on strategic issues relating to High Impact Weather and Climate. The event, organised by the Royal Meteorological Society (RMetS) and National Centre for Atmospheric Science (NCAS), took place from 6-8 July 2016.
It included a mixture of plenary sessions, workshops, and poster sessions to stimulate and foster new ideas around the three themes of the conference: observing, predicting and responding to high impact weather in a changing climate.
Welcoming 300+ delegates to the @RMetS @AtmosScience #HighImpactWeather and #climate conference pic.twitter.com/Cz11Xnbq24

— NCAScience (@AtmosScience) July 6, 2016
A number of CEH scientists took part in various workshops:
Low cost fallacy.Why sensors are not so low cost -Christine Brabant @CEHScienceNews #highimpactweather @AtmosScience pic.twitter.com/8VPZQcAGSW

— Sarah Moller (@DrSazzle) July 6, 2016
Image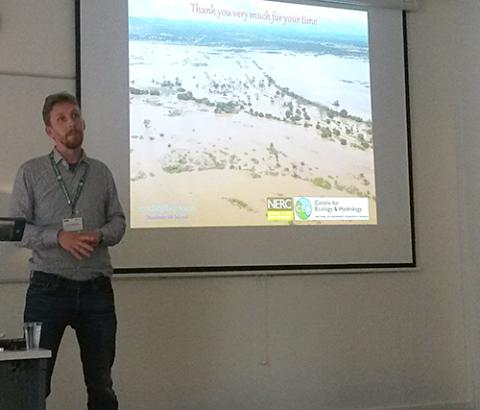 Above: Dr Toby Marthews, a land surface modeller at CEH, presented in the workshop "From weather to environmental prediction?"
We also had posters presented at the event:
Lucy Barker: Identifying historic streamflow droughts using standardised indicators
Simon Parry: Systematic assessment of hydrological drought termination in observed and reconstructed river flow records
Alison Rudd: A national-scale hydrological simulation of low flows and drought across Britain
Ready 4 2nd poster session @AtmosScience @RMetS #highimpactweather w/ @HistDroughtsUK hydro #drought identification pic.twitter.com/gxpZhrdBep

— Lucy Barker (@lucybarkerjane) July 7, 2016
Additional information