CEH is helping to promote environmental research excellence in support of evidence-based environmental policies in China. Prof Alan Jenkins, Deputy Director CEH and Director of Water and Pollution Science, summarises recent developments: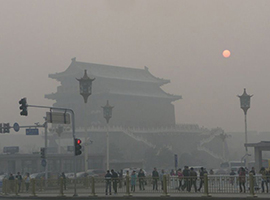 China's increasingly urbanised and wealthy population is driving a growing and changing demand for food which might not be met without significant increase in agricultural productivity coupled with sustainable use of natural resources. Additionally, the Chinese government has asserted an ambition of achieving an "ecological civilization"; that is to achieve environmental sustainability. Currently, however, environmental policy implementation is piecemeal within different sectors (water, soil, agriculture, air, etc), environmental data often do not have common metrics or have limited availability, and information exchange is limited and appropriate monitoring and research programmes in relation to soil, water and air pollution in China is disconnected.
The drive towards an "ecological civilization" demands integrated research and policy development and implementation. CEH has been working over the last four years to help establish a platform for collaboration between scientists and policy makers such that China's ambitious environmental goals can be achieved.
International collaboration
The Chinese government has identified international collaboration to enhance research capacity as a national goal towards the achievement of its environmental sustainability objectives. The importance, and significance, of the Chinese government both welcoming international partnership and specifying the formal goal to focus on the environment cannot be understated. However, studies of food security and environmental sustainability issues in China are largely discipline-specific or regionally based with little or no coordinated management of the data at a national level. As a result, data transfer and access are limited, hampering rigorous scientific evaluation of the magnitude and extent of environmental issues.
CEH is ideally placed to demonstrate mechanisms of effective collaborations for environmental research in China, and to assist China in achieving evidence-based policy decisions. In the UK, generally, there is much experience in the drive to establish open access to data with common standards and metrics and in the terrestrial and freshwater sciences to facilitate environmental research and inform policy and CEH can offer many examples of good practice in this respect, including Countryside Survey, UK Ecosystem Assessment, European Nitrogen Assessment, etc.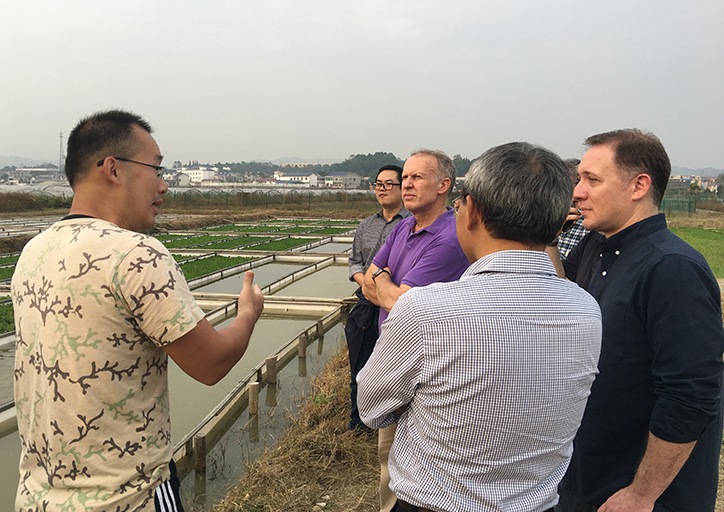 Chinese scientists discussing environmental issues with CEH researchers on a visit to Changsha
"CEH is ideally placed to demonstrate mechanisms of effective collaborations for environmental research in China, and to assist China in achieving evidence-based policy decisions", Professor Alan Jenkins
Since 2013, CEH has been developing linkages with Chinse partners, demonstrating scientific rigour and establishing trust. In developing these links CEH has signed formal Memoranda of Understanding with 13 Chinese partners (see a list below) to facilitate joint projects and staff exchanges. Funding over four years (totalling £200k), predominantly from the UK FCO Science and Innovation Network at the British Embassy in Beijing, has enabled us to coordinate discussion events to bring UK and Chinese scientists together with some of China's policy-makers, in fields of food and water security, natural capital and big data. These 'roundtable' events have been co-organised with the Development Research Centre of the State Council and the Chinese Academy of Sciences. This body effectively acts as the policy 'engineers' for the State Council, China's highest level of government. Two papers (Lu et al, 2015; Gu et al, 2017) have come out of these activities, both focused on the issues around building and implementing evidence-based environmental policy. The State Council DRC are also currently drafting policy briefs around water security and natural capital.
This work on science-to-policy in China is underpinned by an ever increasing CV of CEH research activity totalling c.£2m over the next three years. We have recently completed a EuropeAID funded project on river basin management and have had considerable success with bids to the Newton Fund; projects now underway with significant CEH involvement are the China virtual nitrogen centre (CINAG) (BBSRC), Air Pollution and Human Health in Beijing (NERC) and EO-COSMOS soil moisture measurement in agriculture (STFC Agritech).
Our NC-ODA (National Capability - Official Development Assistance) programme also includes work on drought assessment and indicators and restoration of air and water quality. Current bidding activity includes engagement with EU, private sector and in-country sources and totals c. £2.5m. This level of activity reflects the CEH ambition to grow its engagement internationally.
Partners linked by MoUs
Chinese Research Academy for Environmental Sciences
Research Center for Eco-Environmental Science-Chinese Academy of Sciences
China Agricultural University
Chinese Academy of Agricultural Sciences
Institute of Urban Environment-Chinese Academy of Sciences
Yunnan University
Changjiang (Yangtze) River Scientific Research Institute
China Institute of Water Resources and Hydropower Research, Ministry of Water Resources
ASEM Water
Agriculture Committee of Hunan Province
China Association of Environmental Protection Industry
Guangzhou Institute of Geochemistry- Chinese Academy of Sciences
General Institute of Water Resources and Hydropower Planning and Design, Ministry of Water Resources
References
Lu, Y, Jenkins, A, Ferrier, R C, Bailey, M, Gordon, I J, Song, S, Huang, J, Jia, S, Zhang, F, Liu, X., Feng, Z. and Zhang, Z. (2015) Addressing China's Grand Challenge of Achieving Food Security Whilst Ensuring Environmental Sustainability. Science Advances, 1 (e1400039).
Gu, S, Jenkins, A, Gao, S-J, Lu, Y, Li, H, Li, Y, Ferrier, R C, Bailey, M, Wang, Y, Zhang, Y, Qi, X, Ding, L, Daniell, T, Williams, R, Hannaford, J, Acreman, M, Kirk, S, Liu, H, Liu, Z, Luo, L, Yan, D, Liu, X, Yu, F, Wang, D, Zhang, B, Ding, A, Xie, X, Liu, J, Ma, C, Jobson, A. (2017). Ensuring water resource security in China; the need for advances in evidence-based policy to support sustainable management. Environmental Science and Policy 75: 65-69.
Acreman, M, Kirk, S, Liu, H, Liu, Z, Luo, L, Yan, D, Liu, X, Yu, F, Wang, D, Zhang, B, Ding, A, Xie, X, Liu, J, Ma, C, Jobson, A. (2017). Ensuring water resource security in China; the need for advances in evidence-based policy to support sustainable management. Environmental Science and Policy 75: 65-69