Now in its third year, the Cumbrian Lakes Research forum on 31 October 2017 proved to be an interesting and stimulating day full of lake, river and catchment related conversations. Dr Ellie Mackay reports:
The idea of the forum is to share new developments in lake research, regulation and management, with plenty of time for discussion on different topics related to the talks and in particular this year, public engagement. We try to ensure there are a broad range of topics, speakers and participants at the meeting including scientists, lake and land managers, Rivers' Trusts, regulators, policy makers, water industry and interested citizens, which always makes for interesting discussions.
...a stimulating day full of lake, river and catchment related conversations...
Experimental science
The talks this year covered a wide range of topics relevant to fresh waters including evidence and understanding of environmental change, conservation challenges and catchment and lake management. A range of techniques illustrated how we can explore environmental change in the aquatic environment including the experimental investigation of freshwater stressor interactions such as nutrients, temperature, dissolved organic carbon and flushing in mesocosms by Heidrun Feuchtmayr (CEH) and process-based modelling of drought impacts on water quality.
Windermere sediments
Two studies of Windermere sediments gave us a view into the evolution of the lake and the wider catchment over timescales ranging from hundreds to thousands of years. James Fielding (University of Southampton) compared the geochemistry of sediments from the north and south basin since the 1870s finding evidence for redox-driven concentration of metals in the surface sediments. Rachael Avery (University of Southampton) revealed how the sequences of sediments deposited in the different lake basins could be used to reconstruct the rapid retreat of the Cumbrian ice sheet at the end of the last glacial period.
Long-term monitoring
Long-term monitoring data collected over the last seven decades from several Cumbrian lakes represent an almost unique perspective on environmental change in a lake district. Steve Thackeray (CEH) showed how these data have been used to investigate changes in fish habitat volume, the seasonal timing of plankton peaks and fish reproduction, have been used to test ecological theories, and have contributed to large scale assessments of the impacts of climate change.
Image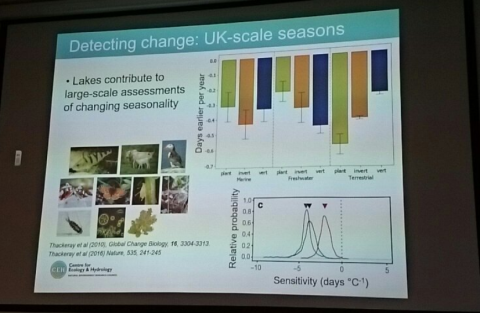 Rare species
Two talks this year demonstrated the challenges for conservation of rare freshwater species. The first, from Ceri Gibson (FBA), provided a fascinating insight into the work involved in rearing and reintroducing one of our most endangered freshwater species, the freshwater pearl mussel. Her talk highlighted how improved ecological understanding can be used to assist conservation in freshwater environments.
Ian Winfield (CEH) then demonstrated how underwater drones, photography and hydroacoustic techniques have been used to assess rare fish spawning habitat in a number of Cumbrian lakes. The data suggest that, while the otherwise-catastrophic Storm Desmond of December 2015 has had no or little lasting impact on such habitats, eutrophication-driven impacts are notable in some lakes and can be associated with local declines in fish population status. A new film, Brass Three Down, documenting the story of the Arctic Charr in Windermere is due to be screened at the forthcoming Kendal Mountain Film Festival.
Catchment management
The development of catchment management plans to address water quality problems necessitates bringing together a large array of data from different sources. Caitlin Pearson (West Cumbria Rivers Trust) provided a demonstration of how, through the use of online mapping software, the Trust has developed a tool for use by managers and the wider public to understand more about the river and lake catchments of the north of Cumbria.
The challenge of practical on the ground catchment management was also ably covered by John Gorst (United Utilities) who highlighted successes in river restoration, to address gravel movement, through partnership working, and the difficulties of providing one third of the water supply for the northwest of England from Cumbria when control of land use, management practices and perceptions of healthy ecosystems are driven by other influences.
Wider engagement
As usual, the meeting included plenty of time for discussion and this year there was a focus on how to engage the wider public in the importance of freshwaters and freshwater research. Identifying a group to target and a clear message was seen as key, since different audiences would benefit from different approaches to communication. Making better connections with those who are using the National Park, through membership organisations such as the National Trust, outward bound centres or the Park Authority was a clear opportunity, as was making use of existing successful restoration projects such as Swindale Beck to demonstrate the potential of landscape scale management.
Other more challenging ideas included the need to engage in the policy debate about the future uses of the countryside, getting freshwater science into school curricula and having difficult conversations between different interest groups, particularly where often very vocal opinions dominate.
Our Storify provides an overview of the talks from the day (hover over the slides or click through for more detail) while the presentations are available as PDF documents to download below.
Presentations (PDF)
Examining freshwater stressors using mesocosm experiments Heidrun Feuchtmayr, CEH
The recent sediments of Windermere: an environmental and climate history James Fielding, University of Southampton
Understanding environmental change with long-term monitoring data Steve Thackeray, CEH
Challenges in conserving critically-endangered Freshwater Pearl Mussels; advances over 10 years Ceri Gibson, Freshwater Biological Association
Catchment management challenges John Gorst, United Utilities
The impact of drought upon reservoir phytoplankton blooms Alex Elliott, CEH
West Cumbria Catchment Mapping Portal Caitlin Pearson, West Cumbria Rivers Trust
Stormy fish sex Ian Winfield, CEH