Data obtained from the Centre for Ecology & Hydrology's (CEH) COSMOS-UK soil moisture monitoring station - 'The Lizard', which is on Goonhilly Downs just 7km to the west of Coverack - shows the rainfall that led to the flooding of the Cornwall fishing village was very much localised.
Amazingly, the CEH raingauge only recorded 0.12mm on Tuesday 18 July 2017, which is corroborated by the CRNS and TDT soil moisture data which shows no significant increase.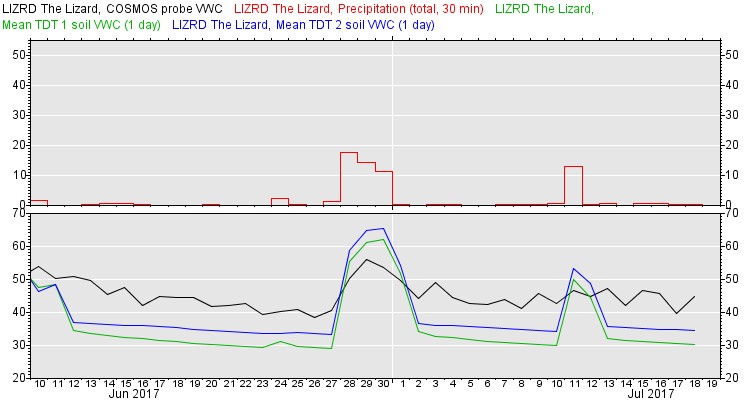 The data which suggests that the rainfall was very much localised is illustrated by our phenocam image from 2.42pm that same day which shows the storm to the east (right side of north facing phenocam in the right picture below) and sunshine to the west.

CEH's COSMOS-UK has established, and continues to grow, a long-term network of soil moisture monitoring stations for the United Kingdom, with funding from the Natural Environment Research Council. The network provides near-real time soil moisture data for use in a variety of applications including farming, water resources, flood forecasting and land-surface modelling. Each station is equipped with an instrument that uses cosmic-rays to sense soil moisture over an area of about 20 hectares (about 50 acres). Data from the network have the potential to transform the way that we understand and model the natural environment.
Meanwhile analysis of the storm event by the Environment Agency has used CEH's Hyrad software to view and analyse weather radar data from the Met Office. The software screen shows the localised nature of the rainfall accumulations over Coverack in Cornwall on 18 July 2017:
Weather radar image showing just how localised #Coverack storm was - unverified totals look like 100mm in three hours #CoverackStorm pic.twitter.com/IdSIz003fD

— John Curtin (@johncurtinEA) July 19, 2017