Chile has incredible appeal for ecologists. The Andes extend alongside the eastern edge of Chile and essentially render it isolated from the rest of South America. Not surprisingly the landscapes of this long and narrow country are extremely diverse and the biodiversity even more so. The species list for Chile includes around 31,000 species and about 37% of these are endemic. Justifiably Chile is considered a global biodiversity hotspot.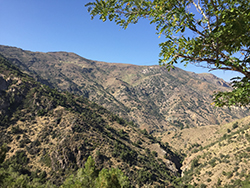 But Chile is situated in the "Pacific Ring of Fire" and consequently prone to major perturbations such as earthquakes and volcanic eruptions. However, it is anthropogenic factors (the usual contenders of habitat destruction, climate change and invasive non-native species) that pose the greatest threat to biodiversity in this country; indeed the forest fires currently raging through the central zones of Chile are having devastating effects on habitats including national parks and reserves.
International collaboration
Over the last decade I have been corresponding and working together with Audrey Grez (Universidad de Chile and Directora de Kauyeken) and Tania Zaviezo (Pontificia Universidad Católica de Chile) who share my passion for ladybirds (and other insects!). A few years ago we began collaborating on a research project funded by Fondecyt and led by Audrey and Tania. This provided myself and Peter Brown (Anglia Ruskin University and co-leader of the UK Ladybird Survey) with a unique opportunity to visit Chile to work alongside Audrey and Tania.
During our visit we had the pleasure of meeting with Audrey and Tania's research groups to hear about their exciting landscape ecology research. It was inspiring to hear of their large-scale field experiments which have been advancing understanding on complex ways in which landscape factors influence the distribution of species and ultimately ecosystem function. It was also fantastic to have the opportunity to explore some of these landscapes through collaborative fieldwork ranging from high in the Andes to alfalfa fields and vineyards in the suburbs of Santiago.

Sweepnet samples during fieldwork included harlequin ladybirds
The widespread distribution of non-native species was evident at all the sites we visited and it was particularly intriguing to observe the harlequin ladybird Harmonia axyridis high in the Andes in the shadow of circling condors. So the seminars on the ecology of non-native species that Peter and I gave at the University of Chile proved timely for discussions on this issue.
Citizen science is seen as an emerging approach for environmental research in Chile and so we were delighted co-lead a one-day workshop on citizen science (with support from the British Ecological Society, alongside our other sponsors: FONDECYT (project 1140662), Kauyeken Association, Anglia Ruskin University, Centre for Ecology & Hydrology, Doctorate in Agricultural and Veterinary Sciences, University of Chile and the Faculty of Agronomy and Forestry Engineering of the Pontificia Universidad Católica de Chile). Its objectives were to: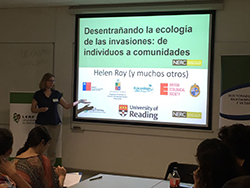 Provide an overview of citizen science and its benefits and limitations
Share examples of current initiatives in citizen science for biodiversity in Chile
Build and facilitate citizen science interactions within Chile and between Chile and the United Kingdom
The value of citizen science
We were joined by 31 participants (Table 1) with a range of occupations and backgrounds including people from Universities, colleges, NGOs, the Ministry of the Environment, the National Forestry Corporation (CONAF) and the Chilean Navy. It was inspiring to hear about the range of current citizen science activities in Chile. Global initiatives such as eBird and iNaturalist were enthusiastically represented but there were also many national and regional initiatives described. Birds seem to be universally popular with people but it was saddening to hear that bats in Chile are not held in the same high regard. However, it was incredible to hear of the way in which researchers are trying to change perceptions through the Program for the Conservation of Bats in Chile, with a lively communication campaign (including on Facebook) but coupled with recording through iNaturalist.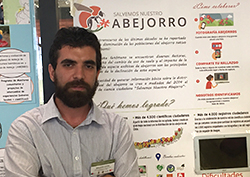 The excitement of insects was evident through many wonderful projects ranging from focusing on single species to those encompassing hundreds of species. There is only one species of native bumblebee Bombus dahlbomii in Chile and it is threatened by introduced species including Bombus terrestris. The initiative Salvemos Nuestro Abejorro engages people in monitoring this exquisite bee. Moscas Florícolas de Chile is a citizen science initiative run entirely through Facebook with the aim of highlighting the diverse and important life histories of flies with specific focus on flies visiting flowers. The organiser of Moscas Florícolas de Chile described the importance of evaluation and the ways in which he seeks feedback on the project from the volunteers contributing observations. The harlequin ladybird is a widely distributed non-native species in Chile. It dominates many habitats alongside a number of other non-native ladybirds. Chinita arlequin is an initiative which engages people in recording harlequin ladybirds across the length and breadth of Chile. The research publications emerging from Chinita arlequin admirably highlight the value of citizen science.
Importance of effective communication
A number of overarching themes emerged through the day. The importance of effective communication to connect people with nature and with citizen science initiatives was discussed. It is not simply enough to post a webpage and expect people to get involved. There is a real need to help people gain the necessary confidence to get involved. Getting to grips with the incredible diversity of species is a challenge for scientists and conservation practitioners but for volunteers it can be overwhelming. The commitment to providing training and educational opportunities to volunteers and mentors is incredible. For example Cequa, a foundation based in Patagonia, provides training to tour guides and rangers to encourage visitors to engage with a number of citizen science initiatives.
"Getting to grips with the incredible diversity of species is a challenge for scientists and conservation practitioners but for volunteers it can be overwhelming"
The way in which people work together to achieve so much was evident throughout the day. There are many barriers to overcome if the potential of citizen science is to be realised in Chile but there are also many opportunities. Most importantly there is a wonderful community of people committed to ensuring the future of wildlife and their habitats in Chile.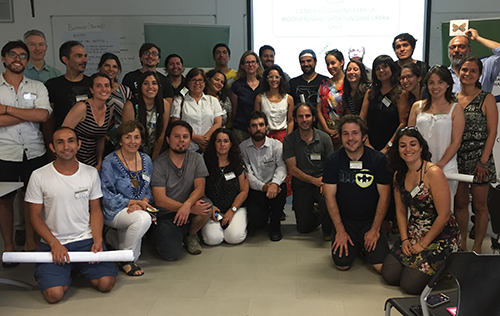 Participants in the Chilean citizen science workshop
Prof Helen Roy
Additional information
Table 1: List of participants in Chile Citizen Science Workshop Jan 2017 (PDF)