CEH scientists will be joining thousands of colleagues from around the world to present research updates to the European Geosciences Union General Assembly in Vienna next week (17-22 April 2016). The annual meeting, at the Austria Center in Vienna, looks at all aspects of Earth, planetary and space sciences. This year's theme is the Active Planet.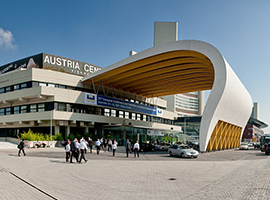 While a lot of the media focus at EGU is often on space science, the breadth of research on show is staggering: the EGU General Assembly is a massive event with hundreds of oral presentations, PICO sessions and poster presentations taking place each day on a range of topics including natural hazards, climate change, soil processes, land management, remote sensing, digital mapping and science communication.
This year our staff and students will be presenting on subjects including drought monitoring, peatland carbon, land-atmosphere modelling, greenhouse gas emissions and nanoparticles. Our work with collaborating institutes will also be highlighted in numerous other presentations.
Abstracts of oral, PICO and poster presentations given by CEH scientists and students can be found below:
Oral presentations
PICO sessions
Poster presentations
Additionally, Eiko Nemitz is a co-convenor on session BG2.12 Biosphere-atmosphere exchange of reactive trace gases and aerosols. Ute Skiba is a co-convenor on session BG9.1 Climate impact of land management and competition between food and energy crops, and is chairing the poster session for that event. Richard Williams is a co-convenor on session HS5.10 Assessment and interpretation of state and trends in water quality and Christel Prudhomme is a co-convenor on session HS4.4 Drought and water scarcity: monitoring, modelling and forecasting to improve hydro-meteorological risk management.
Finally, CEH Research Fellow Professor John Burrows was the recipient of the European Geophysical Union's Alfred Wegener Medal 2016.
Good luck to everyone taking part!
Check out the full session programme on the General Assembly website.
Some facts and figures from #EGU16 pic.twitter.com/IV59Jf2sLf

— Ali Hoshyaripour (@Hoshyaripour) April 18, 2016
Added 27 April 2016: Storify round-up of CEH science at EGU2016: