PhD student Jessica Richardson reflects on the recent International Society of Limnology congress (SIL2016) which featured a number of presentations by CEH colleagues, Jess included...
CEH is doing some big science in freshwater research. Science that addresses some of the most pressing issues facing freshwater resources today. Science that I feel, as a young researcher, is leading the future of limnology and freshwater research in general. And, science that I'm very excited to be part of.
Bryan Spears from @CEHScienceNews inspiring debate on whether we should use geo-engineering to manage water quality in lakes #SIL2016

— Danielle Wain (@dellewain) August 3, 2016
This impression is not personal bias, but a tangible outcome from our recent foray onto the international stage at the 33rd International Society of Limnology (SIL) congress in Turin, Italy.
Together, as a group of eleven freshwater researchers (students, research associates and staff), we were ambassadors for CEH, showcasing the diverse, innovative and world class freshwater science that we are doing as an organisation to an international audience of many hundreds of people.
.@RosieMcDonald91 telling #SIL2016 about the dynamic DOC / DIC time series of Scottish reservoirs. Great! #CEHLakes pic.twitter.com/zM4URi1vkY

— Phil Taylor (@ScienceAndMaps) August 1, 2016
Why does our research count?
A strong theme of the conference was the need for broad scale problem-solving to tackle extreme and increasing water quality issues that have severe impacts on freshwater ecosystem services and functioning. It was highlighted that, with an increasing number of water bodies under stress, scientists need to develop the tools to model, forecast, track and fix changes in freshwaters faster than ever before. Reflecting this, many of the sessions at SIL incorporated themes on climate change, multiple stressors, prediction of algal blooms, remote sensing and restoration.
Variance in zooplankton size: an early warning indicator of lake state change #StephenIves of #CEHLakes #SIL2016 pic.twitter.com/6Zq5Eo1csw

— Laurence Carvalho (@LacLaurence) August 4, 2016
Importantly, though, there were also themes on classical limnology, something that needs to continue if we are to meet the research challenges of tomorrow.
The impression that I got, from attending talks and talking to limnologists from around the world, is that CEH is regarded as one of the main leaders in lake research, something that I felt we demonstrated through the broad spectrum of research that we presented – in fact, the CEH participants (listed below) represented a third of UK delegates.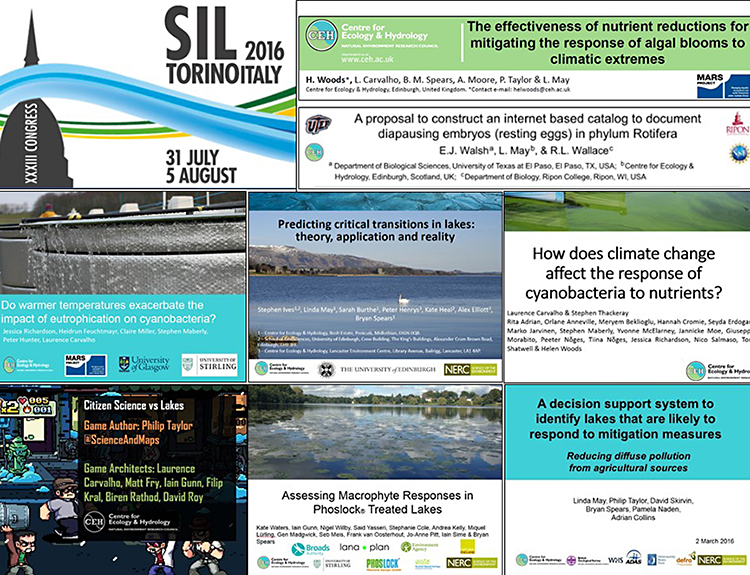 We showcased our ability to combine techniques ranging from in situ long-term monitoring, mesocosm experiments, citizen science and data portals, to data from satellites in space to help address the world's growing problems of water security.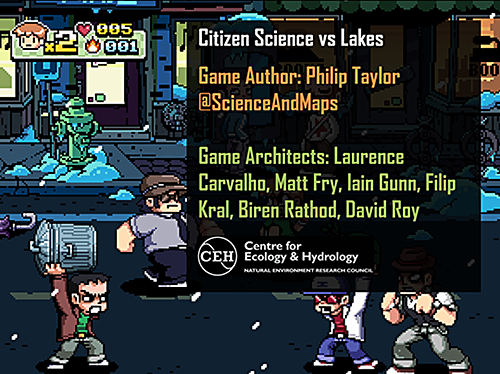 Most creative talk of #SIL2016 goes to @ScienceAndMaps on 4 types of citizen scientists engaged with UK Lakes Portal pic.twitter.com/8bWUS3ycVu

— Laurence Carvalho (@LacLaurence) August 4, 2016
Our presence at the forefront of lake research reflects our strong collaborations with many other excellent research institutes across Europe and beyond; working together we are pushing the limits of scientific understanding.
"The impression I got, from attending talks and talking to limnologists from around the world, is that CEH is regarded as one of the main leaders in lake research." Jessica Richardson
For all of us young researchers, SIL 2016 was a brilliant experience – the research was easily as good as the ice cream! It was exciting to be part of a strong group doing research that I feel is important to the global research community.
.@jessyrichardson of #CEHLakes explains how #cyanobacteria affected by multiple stressors #SIL2016 @CEHScienceNews pic.twitter.com/uHQisOrlJv

— Laurence Carvalho (@LacLaurence) August 3, 2016
For me, it validated my choice to do a PhD at CEH. I wanted to be an ecologist who could make a difference, and with a social responsibility. I am proud to be part of an organisation that encourages big, collaborative and forward-thinking ideas that are based on such a rich heritage of excellent science and high quality data.
Ciao ciao!
Jessica Richardson
Jessica is a PhD student studying Harmful Algal Blooms. You can read more about Jess' PhD on her blog
Sessions chaired at SIL2016
LAND USE IN THE WATERSHEDS AND ITS EFFECT ON LAKES
Laurence Carvalho, Linda May
RESTORATION OF LAKES AND RESERVOIRS THROUGH GEO- ENGINEERING TECHNIQUES: POTENTIALS AND LIMITATIONS
Bryan Spears, Diego Copetti, Miquel Lürling
Talks given
Greenhouse gas emissions from two Scottish reservoir catchments
Roseanne McDonald, Kerry Dinsmore, Ute Skiba, Fraser Leith, Christopher Evans, Michael Billett, Susan Waldron, Zoe Frogbrook
A decision support system to identify lakes that are likely to respond to mitigation measures aimed at reducing diffuse pollution from agricultural sources
Linda May, Philip Taylor, David Skirvin, Bryan Spears, Pamela Naden, Adrian Collins
Predicting critical transitions in lakes: theory, application and reality
Stephen Ives, Linda May, Sarah Burthe, Peter Henrys, Kate Heal, Alex Elliott, Bryan Spears
Assessing the need for geo-engineering at the national scale, UK
Bryan Spears, Philip Taylor, Stephen Maberly, Jo-Anne Pitt, Linda May
Do warmer temperatures exacerbate the impact of eutrophication on cyanobacteria?
Jessica Richardson, Laurence Carvalho, Claire Miller, Stephen Maberly, Peter Hunter, Heidrun Feuchtmayr
A review on the use of lanthanum modified bentonite to manage eutrophication in surface waters
Diego Copetti, Karin Finsterle, Laura Marziali, Fabrizio Stefani, Gianni Tartari, Grant Douglas, Kasper Reitzel, Bryan M. Spears, Ian J. Winfield, Giuseppe Crosa, Patrick D'Haese, Said Yasseri, Miquel Lürling
Multiple stress of eutrophication and climate change in lakes: projected effects of future climate scenarios for phytoplankton in northern european lakes
Jannicke Moe, Anne Lyche Solheim, Niina Kotamäki, Hege Gundersen, Laurence Carvalho, Birger Skjelbred, Marko Järvinen, Geoff Phillips
Integrating science and citizen science: the UK lakes portal
Philip Taylor, Laurence Carvalho, Matthew Fry, Iain Gunn, Filip Kral, Biren Rathod, David Roy
Impact of Phoslock® addition on sediment-water-atmo­sphere greenhouse gas fluxes in a eutrophic lake
Alanna Moore, Fraser Leith, Bryan Spears
Assessing macrophyte responses in Phoslock® treated lakes
Kate Waters, Iain Gunn, Nigel Willby, Said Yasseri, Stephanie Cole, Andrea Kelly, Miquel Lürling, Genevieve Madgwick, Sebastian Meis, Frank van Oosterhout, Jo-Anne Pitt, Iaine Sime, Bryan Spears
How does climate change affect the response of cyanobacteria to nutrients? (view below)
Laurence Carvalho, Stephen Thackeray, Rita Adrian, Orlanne Anneville, Meryem Beklioglu, Hannah Cromie, Seyda Erdogan, Marko Jarvinen, Stephen Maberly, Yvonne McElarney, Jannicke Moe, Giuseppe Morabito, Peeter Nõges, Tiina Nõges, Nico Salmaso, Tom Shatwell, Helen Woods
Seasonal patterns of surface temperature for 732 lakes across the globe: can these be used to define freshwater biomes?
Stephen Maberly, Ruth O'Donnell, Mark Cutler, Ian Jones, Christopher Merchant, Claire Miller, Eirini Politi, Marian Scott, Stephen Thackeray, Andrew Tyler
Posters presented
The effectiveness of nutrient reductions for mitigating the response of algal blooms to climatic extremes (hot and/or dry summers)
Helen Woods, Laurence Carvalho, Bryan Spears, Alanna Moore, Philip Taylor, Linda May
A proposal to construction an internet based catalog to document diapausing embryos (resting eggs) in phylum Rotifera
Elizabeth Walsh, Linda May, Robert Wallace
Inorganic carbon acquisition linked to ecological prefe­rence in four green microalgae
Sabrina Lachmann, Elly Spijkerman, Stephen Maberly
Presentations available online