Updated statistics from the UK Butterfly Monitoring Scheme (UKBMS) have shown continued declines in many species in 2015. Almost two-thirds of the 57 species for which trends are calculated showed an annual decline compared to 2014. Overall, 2015 was a well below average year ranked 30th in the 40-year series. It was the worst year on record for one of our most common and widespread species, Small Copper, as well as one of our rarest species, Heath Fritillary. There were also further declines for a number of other already scarce and declining species such as the High Brown Fritillary and Wood White.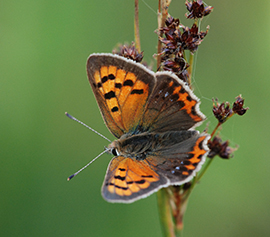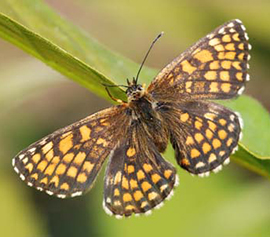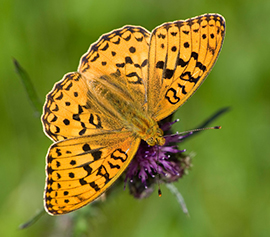 Left-Right: Small Copper, Heath Fritillary (photos: Ross Newham) and High Brown Fritillary (photo: Shutterstock)
No year is without some 'winners' though, and despite the cool summer, a handful of species showed annual increases with numbers of two species recorded at their highest levels since recording began in 1976: Marbled White and Brimstone.
Annual fluctuations in butterfly numbers are largely driven by weather – much of the monitoring season in 2015 (1st April to 29th September) was typified by cooler than average temperatures. Like other insects, butterflies depend on their external environment to get warm and become active. Cold, wet weather reduces activity and development for many species with a knock-on effect on their survival. In years with more suitable weather butterfly numbers can, and do, bounce back. However, this recovery is constrained by the quantity and quality of available habitat for each species – if the habitat isn't there or isn't good enough quality then butterflies, particularly those species with specialised ecological requirements ('Habitat specialists'), cannot fully take advantage of the improved climatic conditions.
Additionally, the effects of climate on butterflies are considerably more complex and idiosyncratic. Climate warming is not even across the year and whilst warming may benefit some species, it may be having negative impacts on species whose most sensitive stages are at times of the year where the climate is actually becoming less favourable. Climate change itself is not simply warming either, and the increase in extreme climatic events such as droughts and floods is often associated with negative impacts on butterfly populations.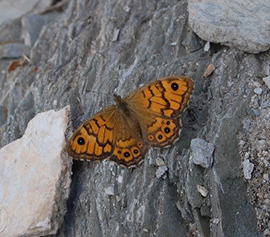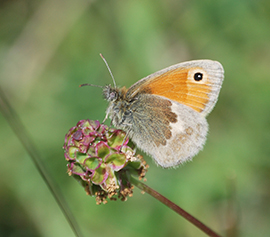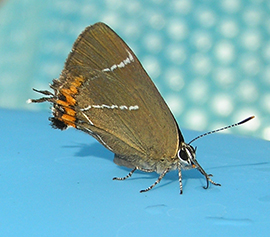 Left-Right: Species declining in number include Wall, Small Heath and White-letter hairstreak (photo Ben Sale CC BY 2.0)
Long-term data from the UKBMS provides a key insight into how butterfly populations are responding to long-term changes in the environment and how this varies across the UK. Running since 1976 the scheme now comprises over 1,500 standard transect sites on which all species of butterfly are recorded weekly from the start of April to the end of September each year. For some of our rarer, more localised species and those that are difficult to observe on transects, there are also over 200 reduced effort surveys carried out each year including larval web counts, egg counts and timed observations of adult butterflies within fixed areas at the peak of their flight period. And, for the last decade an additional programme of surveys targeting the wider countryside with a randomised design provided more than 800 additional transects across the UK annually. This amazing source of volunteer-collected data enables us to assess the longer-term impacts of environmental change and determine those species of genuine conservation concern.
Long-term data from the UKBMS provides a key insight into how butterfly populations are responding to long-term changes in the environment and how this varies across the UK...This amazing source of volunteer-collected data enables us to assess the longer-term impacts of environmental change and determine those species of genuine conservation concern.
Long-term trends in UK butterflies were a focus of the recent State of the UK's Butterflies 2015 report, in which the abundance trends from the UKBMS were analysed together with trends in distribution from the Butterflies for the New Millennium (BNM). The report confirmed significant declines in many of the UK's butterfly species owing largely to a reduction in the availability of suitable habitat. 57% of individual species had decreased in abundance since 1976 and at the time of the report, which included data up to 2014, 20 species were showing statistically significant declines. With the addition of 2015 data, two more species can be added to that total, the Small Copper being one after a drop of almost a quarter in numbers compared to 2014.
This also further illustrates the worrying decline of those species we consider to be common and widespread, many of which are now disappearing from large areas of the UK landscape. Species such as Wall and Small Heath used to be a common sight across much of the countryside, but are now becoming increasingly difficult to find, especially in the numbers at which they used to occur: Wall has been lost altogether from a large proportion of inland sites becoming largely coastal in distribution as a result, whilst numbers of the once abundant Small Heath are less than half what they used to be. White-letter Hairstreak suffered significant declines after the widespread and continued death of Elm trees, the larval host. Once widespread across the UK, this species has significantly declined by an astonishing 97% and for the last two years running has had its worst year on record.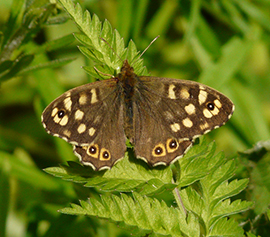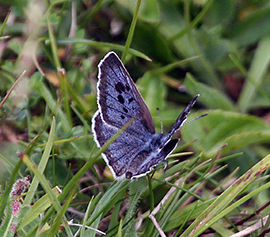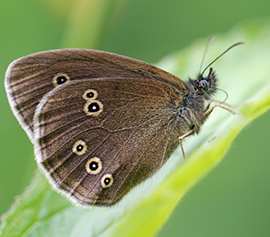 Left-Right: Speckled Wood, Large Blue and Ringlet butterflies have shown significant increases
Not all is doom and gloom though. Population declines are not ubiquitous across all UK species and even for those species showing significant long-term declines there are encouraging signs of recovery as a result of successful conservation management. Species of the wider countryside such as Ringlet and Speckled Wood have shown significant increases since 1976, and Marbled White continues to do well with the last two years in a row being its best year on record. Some of our habitat specialists have also been increasing: Silver-washed and Dark Green Fritillaries have both shown significant increases in numbers on monitored sites across the UK since 1976. Numbers of two of the UK's rarest butterflies, High Brown Fritillary and Duke of Burgundy, have increased over the last decade after conservation management has been put in place, though numbers remain at a low ebb compared to the earlier years of monitoring. Large Blue, reintroduced to the UK in the early 1980s after going extinct, has benefitted hugely from intense conservation management and shows a significant increase in numbers since the reintroduction. 2015 was the third best year on record for this rare species with numbers up by more than 100% compared to 2014.
Dr Marc Botham
Additional information
Butterflies struggle during cool 2015 summer - CEH News (22 Mar 2016)
UK Butterfly Monitoring Scheme (UKBMS)
The UKBMS is run by Butterfly Conservation (BC), the Centre for Ecology & Hydrology (CEH), and the British Trust for Ornithology (BTO), in partnership with the Joint Nature Conservation Committee (JNCC), and supported and steered by Forestry Commission (FC), Natural England (NE), Natural Resources Wales (NRW), Northern Ireland Environment Agency (NIEA), and Scottish Natural Heritage (SNH). The UKBMS is indebted to all volunteers who contribute data to the scheme.