For the final episode of his ITV series exploring Britain's Biggest Adventures, Bear Grylls is in Scotland on a journey that takes him from Britain's deepest point to its highest mountain. CEH freshwater ecologist Dr Laurence Carvalho was among those accompanying Bear on one of his adventures. He tells us more…
Bear's journey started at Loch Morar, which lies 90 miles north of Glasgow on the western coast of Scotland, where he joined scientists from the Centre for Ecology & Hydrology, British Geological Survey and University College London to explore the secrets in its depths.
At 310m deep, it's one of the world's deepest lakes and is the location of the UK's deepest point. The loch was carved by a huge glacier during the last ice age that ended some 10,000 years ago. The deepest part of the Loch is deeper than all the coastal sea water surrounding the UK. It is an enormous abyss holding more than 500 billion gallons of water and Bear was intent on finding out what life exists within its great depths.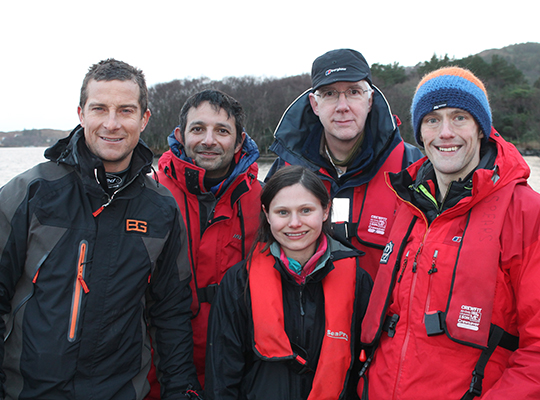 L to R: Bear Grylls, Laurence Carvalho, Lucia Lencioni, Ian Winfield, Andrew Finlayson
The Scientific sampling team assembled in winter (February 2015), comprising staff from CEH (myself, Dr Ian Winfield and Alanna Moore), UCL (Lucia Lencioni and Ian Patmore) and BGS (Andrew Finlayson). We were ably assisted with boats and winches by Paul and Simon from Sea Expeditions and by Bear and the crew from Nutopia.
We were there to take the first ever bottom water and intact core samples from the deepest point of the loch and had a number of questions we hoped to answer with Bear's help.
What did we hope to discover?
Was the water at the deepest part freshwater or was it sea water? Despite the Loch being right next to the sea, it is filled with freshwater but we wondered if the water at the very bottom of the loch has traces of salt water seeping in from the nearby sea.
Is the loch deeper than 310m? The maximum recorded depth was from an expedition in 1902 that used a plumb line and wire. At 310m deep, it is 85m deeper than Loch Ness and would fit the London Shard within it's great depths.
What lurks in the deeps? Can Ian Winfield's sonar system tell us how productive the loch is and if there is sufficient food to feed the mythical Morag the Monster?
Given its uniqueness and that it's one of the deepest lakes in the world, Loch Morar really is a seriously under-studied site. We know less about Loch Morar than we know about some of the ocean depths. There's been no depth survey using modern sonar equipment to confirm how deep it really is and only one sampling trip to look at what animals live down at its depths
Bear adapted well to the CEH freshwater team and came up with an innovative, highly sensitive solution to testing the salinity of the bottom water, which for health and safety reasons we won't be adopting in our routine fieldwork!
You'll need to watch the show to find out if Loch Morar revealed all its secrets!
Laurence Carvalho
After his visit to Loch Morar, Bear's midwinter Highland adventure also sees him discovering ancient pearl mussels, helping to save an ancient forest and discovering that reindeer are making a Scottish comeback. The programme is on ITV on Tuesday 29 September 2015 at 9pm.