Butterflies have been making headlines in the UK today, but sadly not for good reasons. New results from the UK Butterfly Monitoring Scheme (UKBMS) were released earlier, and the figures show that in 2012 13 of the UK's 50+ species of butterfly suffered their worst year on record. Only four species saw their populations increase.
Last year's relentless rain and cold, previously documented by CEH in our monthly hydrological summaries [NEED NEW INTERNAL LINK], created disastrous conditions for many butterfly species as they struggled to find food, shelter and mating opportunities.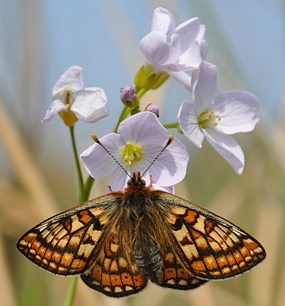 UKBMS is run by CEH and our partners in the scheme Butterfly Conservation (BC) and the Joint Nature Conservation Committee, and has collated records since 1976. The scheme now involves thousands of volunteers collecting data every week throughout the summer from more than 1,000 sites across the UK. CEH and BC are very grateful to all the volunteer recorders for their hard work and tenacity in walking their butterfly transects during 2012.

The full table of results (pdf) comparing 2012 to 2011, giving details for 56 butterfly species found in the UK, can be accessed on the UKBMS website. Last year I blogged about how the UKBMS annual figures are used as indicators by Government to monitor long term changes in the UK's biodiversity (See: Butterflies, biodiversity indicators and long-term change).
More information on the 2012 results can be found on the CEH and Butterfly Conservation websites. If you'd like to know more about the methodology behind the scheme this page on the UKBMS website should help.
Barnaby Smith