Customer: Norfolk Rivers Trust
Project: Diffuse Pollution Risk Mapping
Land Cover Map product: Land Cover Map 2007 25m raster data

"My project aims to identify high-risk sites for water runoff. To give me a good idea of where to concentrate my effort, I ran the SCIMAP Model. Using Land Cover Map 2007 25m raster data, as well as rainfall and digital terrain data, the model highlighted risky areas of flow within the River Nar catchment. When I went out on site to these identified areas during heavy rain, I could see the flow of water out of fields and down roads. I wouldn't solely rely on the model to tell me where to look because there was other evidence elsewhere in the catchment, but it is a good indicator."
Helen Mandley, Farming & Water Project Officer.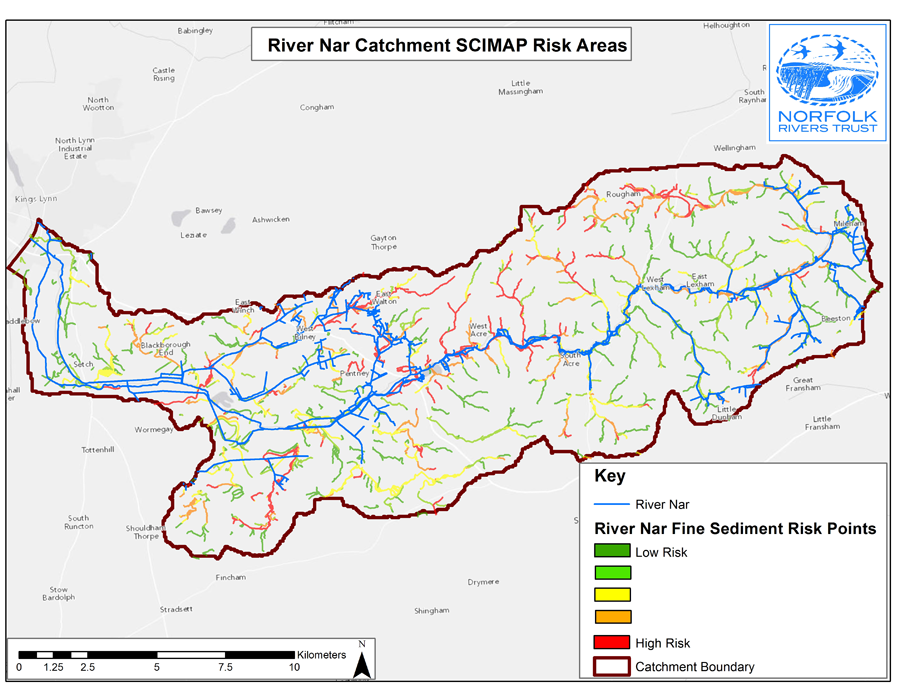 Customer: Severn Trent Water
Project: Risk mapping to support catchment management and drinking water safety planning.
Land Cover Map product: Land Cover Map 2007 vector data
CEH's Land Cover Map 2007 vector dataset. which defined the baseline land parcels, was used in support of archival satellite imagery to produce annual land use maps. In turn, these land use maps were overlaid with inherent field risk (soil type, slope and proximity to water) to develop pesticide risk maps.
Customer: OFCOM, Microsoft and other global technology companies
Project: TV White Space - Europe's first major pilot project to support wireless innovation.
Land Cover Map product: Land Cover Map 25m raster data
Land Cover Map 2007 25m raster data is a vital component of this pilot project, which is investigating the potential for the gaps or "white spaces" in the frequency band for digital terrestrial TV to be used for other applications at certain times. The amount of white space available varies by location, hence the requirement for Land Cover Map. Examples of the applications include monitoring the behaviour of cities, enhancing traffic information, improving broadband in hard-to-reach places and developing intelligent devices.