Our state-of-the-art facilities play a vital role in our water science. Our facilities are open for contract use.
Analytical Chemistry Laboratories
Across our four sites, our laboratories provide specialised chemical analysis for a wide range of environmental science needs. Areas of analytical expertise include metals, nutrients, organics, microplastics and stable isotopes. We have specialist groups carrying out and refining methods for water quality analysis, physical and chemical soil analysis, and greenhouse gas analysis. We maintain high standards of quality control and are UKAS-accredited to ISO 17025:2017 for many of the analyses carried out. We offer collaborative opportunities for a wide range of organisations.
Aquatic Mesocosm Facility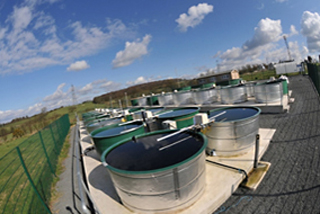 Acquiring detailed process understanding in a reservoir is very challenging due to a lack of environmental controls and the lack of replication. In order to bridge the gap between the real-world environment of a natural reservoir and controlled experiments in a laboratory, we conduct mesocosm experiments at our Lancaster site. The modern open-air aquatic mesocosm facility consists of 32 3,000-litre tanks, each simulating a small lake where all variables can be controlled.
We can simulate a range of highly realistic lake environments under controlled conditions and investigate how emerging environmental challenges and stressors influence the structure and function of shallow lake ecosystems. The advantage this facility has over natural lakes or reservoirs is that it provides us with replication and continuous monitoring. This gives us statistically robust evidence of how freshwaters react to whichever factors and manipulations we want to investigate. The site is equipped with state-of-the-art sensors and loggers to allow for real-time data transmission and viewing to monitor physical and chemical conditions 24/7.